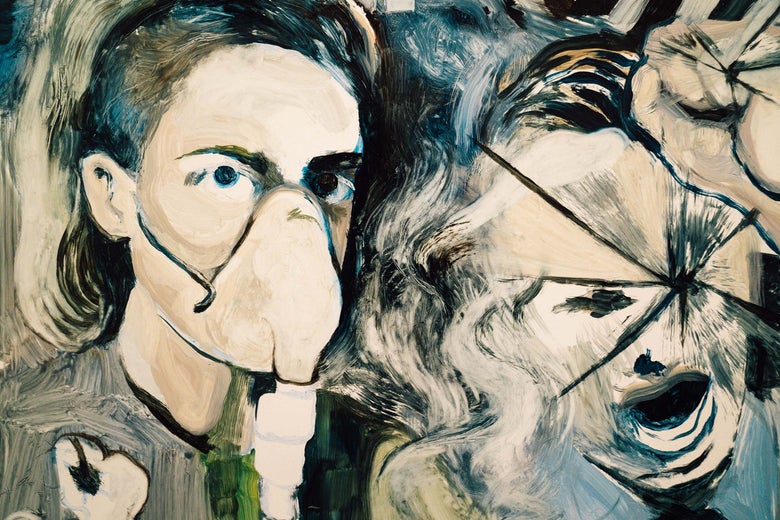 Domestic Violence by Madeline Ashby
My rating: 4/5 cats

WELCOME TO DECEMBER PROJECT!
this explanation/intro will be posted before each day's short story. scroll down to get to the story-review.
this is the FOURTH year of me doing a short story advent calendar as my december project. for those of you new to me or this endeavor, here's the skinny: every day in december, i will be reading a short story that is 1) available free somewhere on internet, and 2) listed on goodreads as its own discrete entity. there will be links provided for those of you who like to read (or listen to) short stories for free, and also for those of you who have wildly overestimated how many books you can read in a year and are freaking out about not meeting your 2019 reading-challenge goals. i have been gathering links all year when tasty little tales have popped into my feed, but i will also accept additional suggestions, as long as they meet my aforementioned 1), 2) standards.
if you scroll to the end of the reviews linked here, you will find links to all the previous years' stories, which means NINETY-THREE FREEBIES FOR YOU!
2016: https://www.goodreads.com/review/show…
2017: https://www.goodreads.com/review/show…
2018: https://www.goodreads.com/review/show…
reviews of these will vary in length/quality depending on my available time/brain power.
so, let's begin
DECEMBER 14
The locking system was part of the whole condo's suite of smart services. It was the big selling point of the building itself: Living there was like living in a fairy-tale castle where every piece of the structure was alive and enchanted to serve the needs of its inhabitants. The showers remembered how warm you liked the water and at what intensity, and balanced your usage with that of the other residents. The fridges told you when a neighbor in the kitchen network had the buttermilk you needed for that special salad dressing. The windows and lights got information about your alpha patterns and darkened to start sleep cycles on schedule. The smart locking systems recognized residents and their visitors, over time, and even introduced them to each other when their profiles matched. Membership in the building came with special pricing from affiliated brands on everything from home goods to auto-rental to nannying and tutoring. The more purchase points you accrued, the more rewards you amassed, which could also be applied to the price of maintenance or utilities. And a massive and very public data leakage from the network supplying this building and many others ensured that the developers had to offer almost unheard-of interest rates, which tempted buyers who might never have managed, otherwise.
no and thank you.
i found this story after sniffing around the site hosting the emily st. john mandel story i read yesterday (Mr. Thursday) and it sounded right up my tech-reluctant alley—technology as villain; Black Mirror and Maximum Overdrive and all that good stuff where machines crunch tender humanity in its smartdoors. unforchoonately, this was closer to The Turn of the Key, which is a book i very much enjoyed, but one that is decidedly not a SF 'machines will end you' angle. STILL! i liked the moves this story made, and even if it wasn't about sentient tech, it still doesn't make the idea of adopting a smart home in any way appealing. The Mansion made me appreciate how very dumb my home is. it suits me perfectly. anyway, revenge and progress—what could be better?
read it for yourself here:
https://slate.com/technology/2018/03/…
*******************************************
DECEMBER 1
DECEMBER 2
DECEMBER 3
DECEMBER 4
DECEMBER 5
DECEMBER 6
DECEMBER 7
DECEMBER 8
DECEMBER 9
DECEMBER 10
DECEMBER 11
DECEMBER 12
DECEMBER 13
DECEMBER 15
DECEMBER 16
DECEMBER 17
DECEMBER 18
DECEMBER 19
DECEMBER 20
DECEMBER 21
DECEMBER 22
DECEMBER 23
DECEMBER 24
DECEMBER 25
DECEMBER 26
DECEMBER 27
DECEMBER 28
DECEMBER 29
DECEMBER 30
DECEMBER 31
read my book reviews on goodreads