Crooked Kingdom by Leigh Bardugo
My rating: 5/5 cats

But wasn't that what every girl dreamed? That she'd wake and find herself a princess? Or blessed with magical powers and a grand destiny? Maybe there were people who lived those lives. Maybe this girl was one of them. But what about the rest of us? What about the nobodies and the nothings, the invisible girls? We learn to hold our heads as if we wear crowns. We learn to wring magic from the ordinary. That was how you survived when you weren't chosen, when there was no royal blood in your veins. When the world owed you nothing, you demanded something of it anyway.
if that isn't downright anthemic, then i didn't learn a thing from 80's music…
and i'm gonna say it – i know this is intended as a duology, but COME ON! sure, some of the dramatic arcs have been tied up (some quite conclusively), but there is SO MUCH MORE potential for story. (and i'm not just talking about the thing that i know a lot of people want. i'm more than fine without getting a neat bow tied onto that situation). what i want is more View Spoiler »inej « Hide Spoiler (spoiler tagged in case you don't wanna know who makes it outta this one alive.)
i must confess, i'd forgotten some of the things that happened in Six of Crows, specifically the parts involving wylan and kuwei yul-bo, and i started this book a little confused. but thank goodness for internet – i went to this site and it helped me fill in my blanks.
overall, it was a little slower going than Six of Crows, which may have been because i had to think back and work through my hazy memory, but once the things start thinging, man. so tight, again! plots! schemes! peril! double crossery! working the angles! quick thinking! revenge and regret and the spilling of blood. oh, kaz. oh, inej. such excellent characters. the rest of them are very appealing, but those two really stand out as special creations.
"I would come for you. And if I couldn't walk, I'd crawl to you, and no matter how broken we were, we'd fight our way out together—knives drawn, pistols blazing. Because that's what we do. We never stop fighting."
kaz is such a wonderful leader, always thinking nine moves ahead, and it's so heart-in-throat watching it all come together. and inej is so clever, loyal, sad, stealthy, brave, skillful – but i never wanted to roll my eyes at her even once the way i do with some intensely capable heroines, because she seems so human and breakable, despite being so damn good at what she does. i was gripping the book so hard whenever she was in danger, wanting to scoop her up out of harm's way.
there's a lot of time spent with wylan and jasper, which is fine – i'm a fan of jasper, at least, but wylan is a little dull, so i kept wanting the focus to shift back to the rest of the pack because countryside family seeeecrets field trip is not nearly as cool as criminal mastermindery.
i got nothing else to say about this book (sorry i failed you, anmiryam) – if you haven't read the first one, there's no sense in me rehashing plot, but there's so much sense in me urging you to go grab a copy, quickly.
i am not ready to leave this cast of characters behind. i'm assuming bardugo isn't done with this world, since she has invested so much time and imagination to developing it, and it was nice to see some of the characters from the "other" grisha series make appearances in this book, so i suppose it's possible that a new series could branch off and some characters from this one could find new storylines there, but i am emphatically not cool if this is the last we will see of these guys.
no funerals, no mourners, no duologies.
******************************************
good god, that COVER!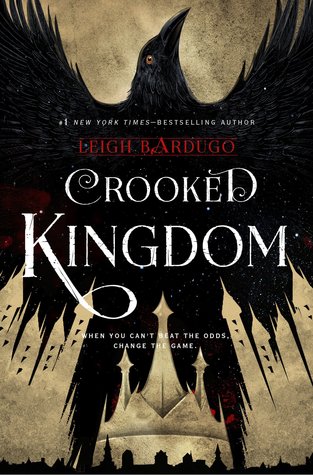 now i'm like one of those teenagers clogging up your feed. you're welcome and can you drive me to the mall?