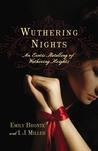 Wuthering Nights: An Erotic Retelling of Wuthering Heights by I.J. Miller
My rating: 2/5 cats

mmmmokay, so i read this.
sometimes i am scrolling through the netgalley new releases and i shrug and think "why not??" because when things are free, there is no risk and it is too, too easy to just click.
but then you have to actually read them.
for while it is true i will read any retelling of wuthering heights that exists, i really only read erotica/romance because it makes me laugh. but it seems rude to accept a generous netgalley freebie and then make giggles at it.
so i am going to try to remain neutral.
if you are a fan of both erotica and wuthering heights, you will love this book, because it has both!
you will be treated to the erotic couplings of:
*heathcliff and catherine
*catherine and edgar
*mrs. linton and a servant
*isabella and heathcliff
*heathcliff and nelly
*cathy and hareton
*heathcliff and isabella AND nelly
and the second-person "you" masturbating in the opening chapter in a bed with ghosts. you dirty bird…
here are some things that are different from the original:
heathcliff's got a well-stocked sex dungeon, there is a ton of anilingus and other butt-play, a strange preoccupation with armpit hair, and we learn the benefits of horseback riding upon the hymen and stomach muscles.
these scenes are not even in the cliffs notes! oversight!
there is one scene that made me laugh with appreciation and not with "tee-hee…sex…" immaturity.
and it comes in the middle of an intercourse scene between heathcliff and his new, despised wife.
He raised his left arm across her chest and neck again, making it difficult for her to breathe. He brought his right index finger, soaked with the deep need and passion he had inspired within her quim, around to the entrance of her bum, and began a gently caress [sic].
"Heathcliff, no, this is not a place for love."
"Precisely," he answered.
that just cracked me up. oh, heathcliff, you are such a dick. and speaking of that…. yeah. indeed.
i often wonder where the impulse to write these sauced-up versions of classics comes from. the cynical part of me thinks that it is just because all you have to do is write a couple of sex scenes and all the rest of the work is done for you. but i don't know. because it's not like heathcliff-as-sex-symbol has ever gone away, archetypically, and maybe it is intended as well-meaning homage, like "you think christian gray is a hot jerk? well, then check out heathcliff, ladies…"
i like to think it is just horny fanfic.
unfortunately, i prefer the original.
because i am a prude.
and how do you know i am a prude? because when you GIS "wuthering heights porn" you get this picture of me:
from this review:
http://www.goodreads.com/review/show/…
and discovering that just made my day for real.