okay, another year, another all-new thanksgiving menu! this year i *thought* i was scaling it down—my intention was to walk the fine line between dramatic and overwhelming. somehow, i still ended up making nine dishes including the turkey (and this year's was the biggest turkey i've ever made), and yet…nothing terrible happened. food-wise, that is. thanksgiving day brought the first rumblings of the omicron variant, which was shitty, and also i broke my toe (pictures not included here because no one needs to be looking at my busted toe and lapsed-pedicure alongside these delicacies).
despite my bleeding, swollen foot, i managed to make four dishes on the wednesday (LIKE A GODDAMNED HERO), putting me in really good shape going into thursday's festivities, which began at 5 am with me peeling potatoes like a good soldier.
this year i'm going to do what i should have been doing from the very first thanksgiving write-up and include a works cited to make it easier to locate these recipes again when people inevitably ask me for the recipe after reading these things or eating my sharesies. for example, i've been tasked with finding that creamed corn recipe from a couple of years back, and i'm happy to do it, but…it's gonna take some digging. if we have another covid-lockdown, imma use that time to backpost the sources into these write-ups. and learn to knit, or something equally productive.
enough of this blah blah, let's move on to THE FEAST!
CRANBERRY-CLEMENTINE SAUCE
(FOOD NETWORK MAGAZINE NOVEMBER 2012)
although i didn't like this one AS MUCH AS that grape/cranberry sauce i made a couple of years ago (and still think of, often), for this being only my second time making cranberry sauce, it was pretty dang good. the only hitch was that one of my star anise pods broke and i had to warn the eight people i leftovered this year about the possibility of cronching down on one like it was a silver coin in some dickensian christmas pudding. greg found it in his portion yesterday which i guess makes him the winner?
SWEET POTATO AND PINEAPPLE GRATIN
(BETTER HOMES & GARDENS HOLIDAY RECIPES SPECIAL ISSUE 2021)
this one was probably my least favorite dish, but part of that was because i picked a bum pineapple that wasn't ripe enough or something. it wasn't very sweet and it became kind of a nonentity in the dish. also, it was a lot of work: prepping the pineapple, crushing the cumin seeds, mincing the garlic, chopping the poblano pepper, slicing the scallion, cutting the sweet potatoes, crumbling the cotija, toasting the panko, etc, etc. it was fine, but it wasn't sublime. we strive for sublimity in this here turkeytown.
KIMCHI-CREAMED COLLARD GREENS
(FOOD & WINE SPECIAL COLLECTOR'S EDITION: BEST HOLIDAY RECIPES 2017)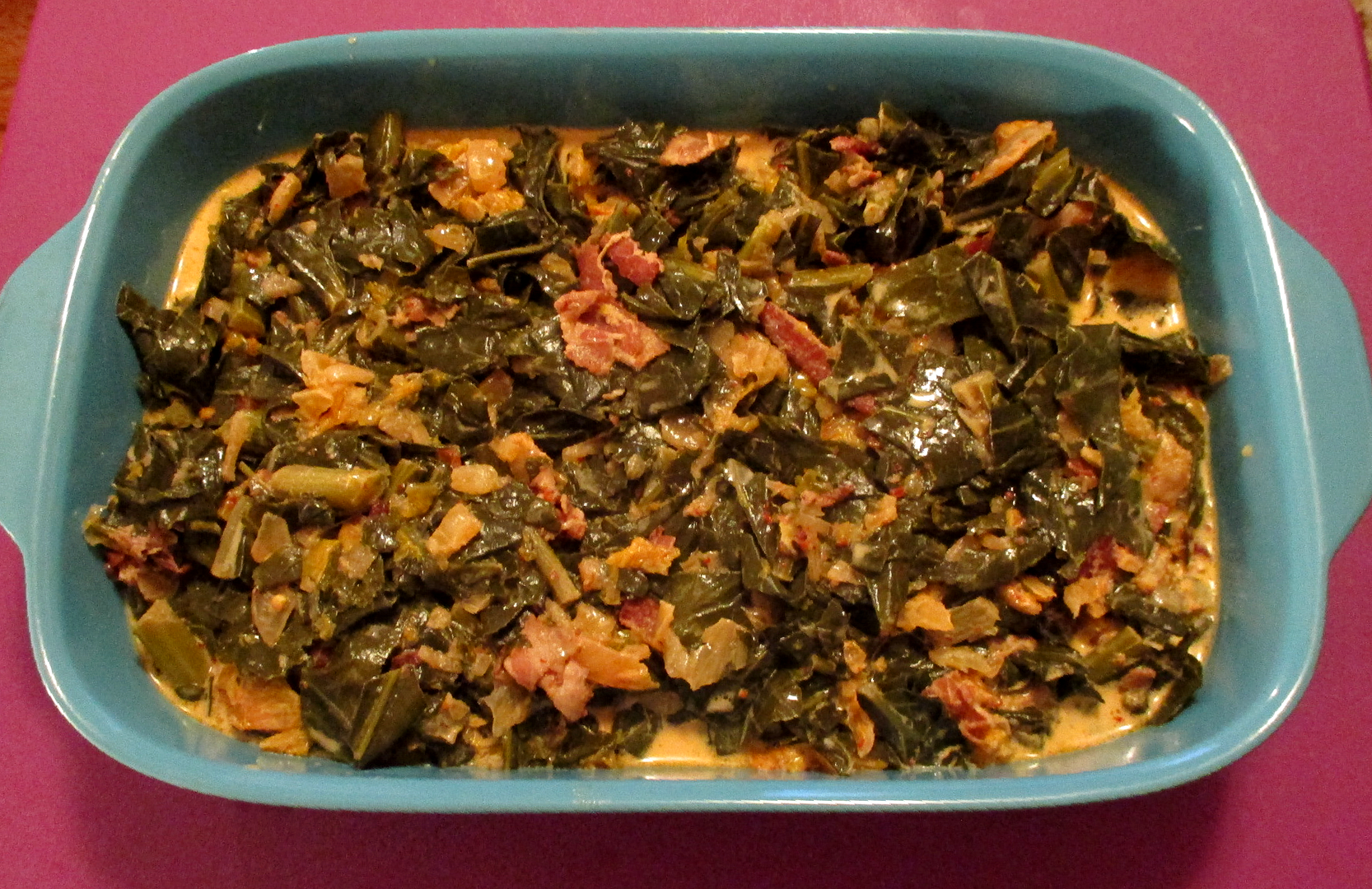 collard greens with kimchi and bacon? yes and please. and oh my god, a timesaving revelation that you can buy collard greens in a bag, already washed and destemmed and chopped and i don't even care if that makes the whole thing less master cheffy because this year, convenience is my co-pilot. it was a little soupy, but it was such a good soup, perfect for turkey-dipping or sopped up by stuffing.
BRUSSELS AND BROCCOLI AGRODOLCE
(FOOD & WINE THANKSGIVING 2021)
i doubled the recipe for this one because 1 pound of brussels sprouts is no thanksgiving at all. it's a nice spicy sweet sour combo (YES KAREN, THAT IS WHAT AGRODOLCE MEANS), with honey and hot peppers and cranberries and red wine vinegar and all kinds of yum. this was the last thing i made on day 1, and, whilst making room for these little pals in the fridge, the bowl tipped and jettisoned a couple of these veggies onto the floor, which was the only casualty of the holiday. besides my poor toe.
CREAMY SWISS CHARD GRATIN WITH CRISPY GNOCCHI
(FOOD & WINE NOVEMBER 2021)
i hope you like dutch angles!
this was great. i was apprehensive because i couldn't find any plain gnocchi (this girl's not making her own on a day like this. or any day, really). i got one that was stuffed with a truffle cream and one stuffed with cheese and marinara and it worked out just fine. it took forever to crisp the gnocchi, and once they went into the dish they didn't really retain their crispiness so that was kind of a waste of time, but no matter! they were still nice little potato-nubble flavor bombs. i debated making this one because TWO sides of creamed greens??? that's bananas! but this one kind of solidified into something more like a bread pudding or slab-concoction that was easily sliced and didn't read like greens at all. (fun fact: i was going to make ONE more dish—creamed peas, but i nixed it at the last minute because this lactose-intolerant bitch doesn't need to be tempting fate.)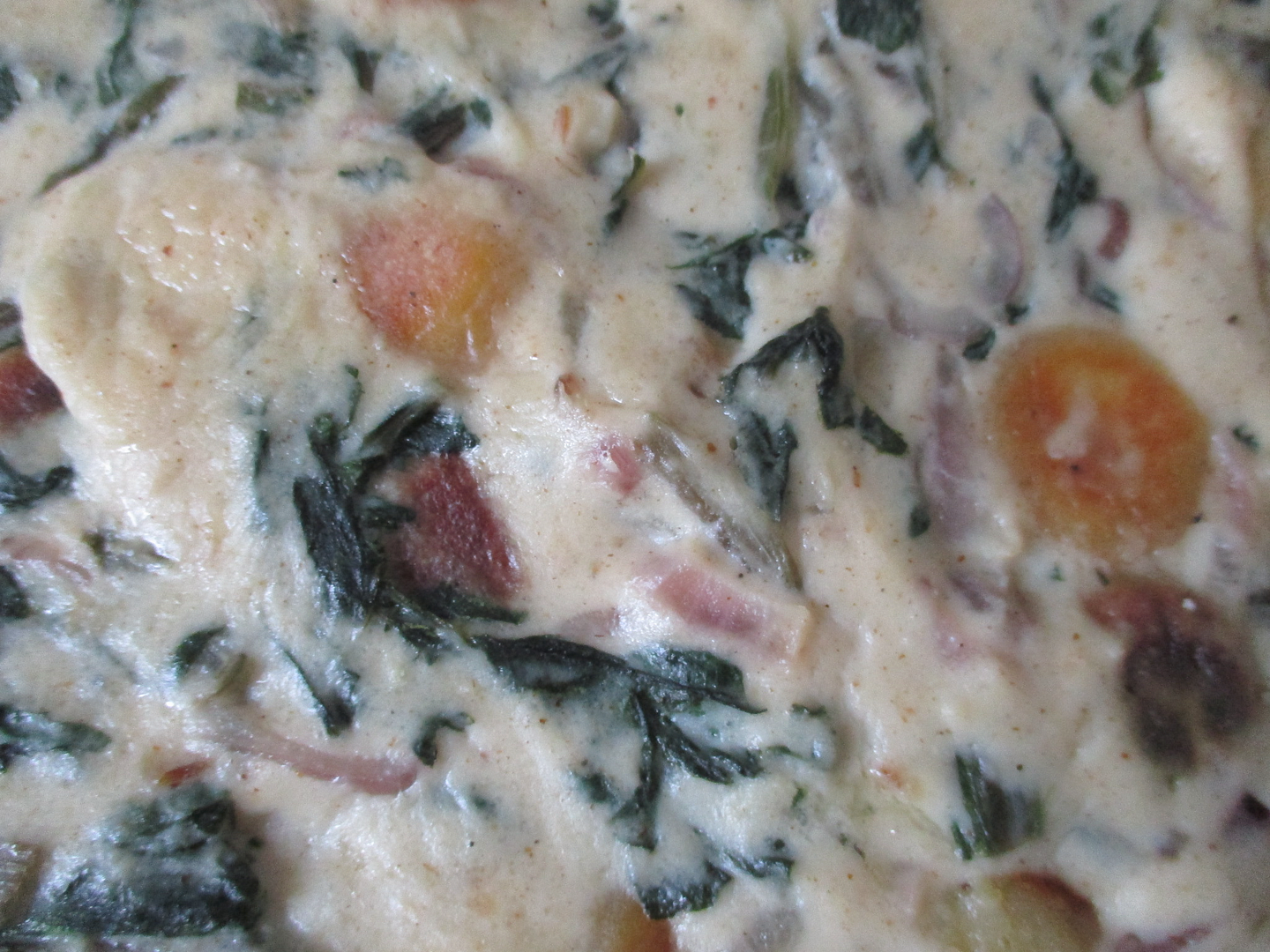 GOLDEN TART (doot doot doot doot)
(TASTE OF HOME THANKSGIVING SPECIAL ISSUE 2021)
i finally got to use the pumpkin dish i bought in 2019!
although, without its sprightly top, it's just an orange bowl. still, IIIIIII know what it is. this recipe called for refrigerated dough (see gnocchi declaration above) and i cheated even more by using already-chopped butternut squash. i really hate prepping butternut squash. it was easy-peasy: i unrolled the dough, spooned in the butternut squash i mashed all by myself, added slices of tart apples and used a pizza cutter to make this lovely swiss cheese lattice.
the one in magazine was neater and nicer all around,
BUT IT'S NOT A COMPETITION, THERESA GUTSCH FROM WAUSAU, WISCONSIN! who am i kidding? of course it is, and theresa has won and that's why her recipe is in a magazine. thank you for sharing this delicious recipe, theresa!
MASHED POTATO-SAUSAGE STUFFING
(FOOD NETWORK MAGAZINE NOVEMBER 2021)
you guys. this is a STUFFING made with POTATOES. potatoes and bread, in one dish—OUR PRAYERS HAVE BEEN ANSWERED! so, yeah, i didn't do a traditional mash dish this year because THE CALL IS COMING FROM INSIDE THE STUFFING! i thought this was a little dry, but i'm always very hard on myself (heh hard on) in the postprandial evaluation, and two people declared this their favorite of all the dishes so what do i know?
that topography deserves another close-up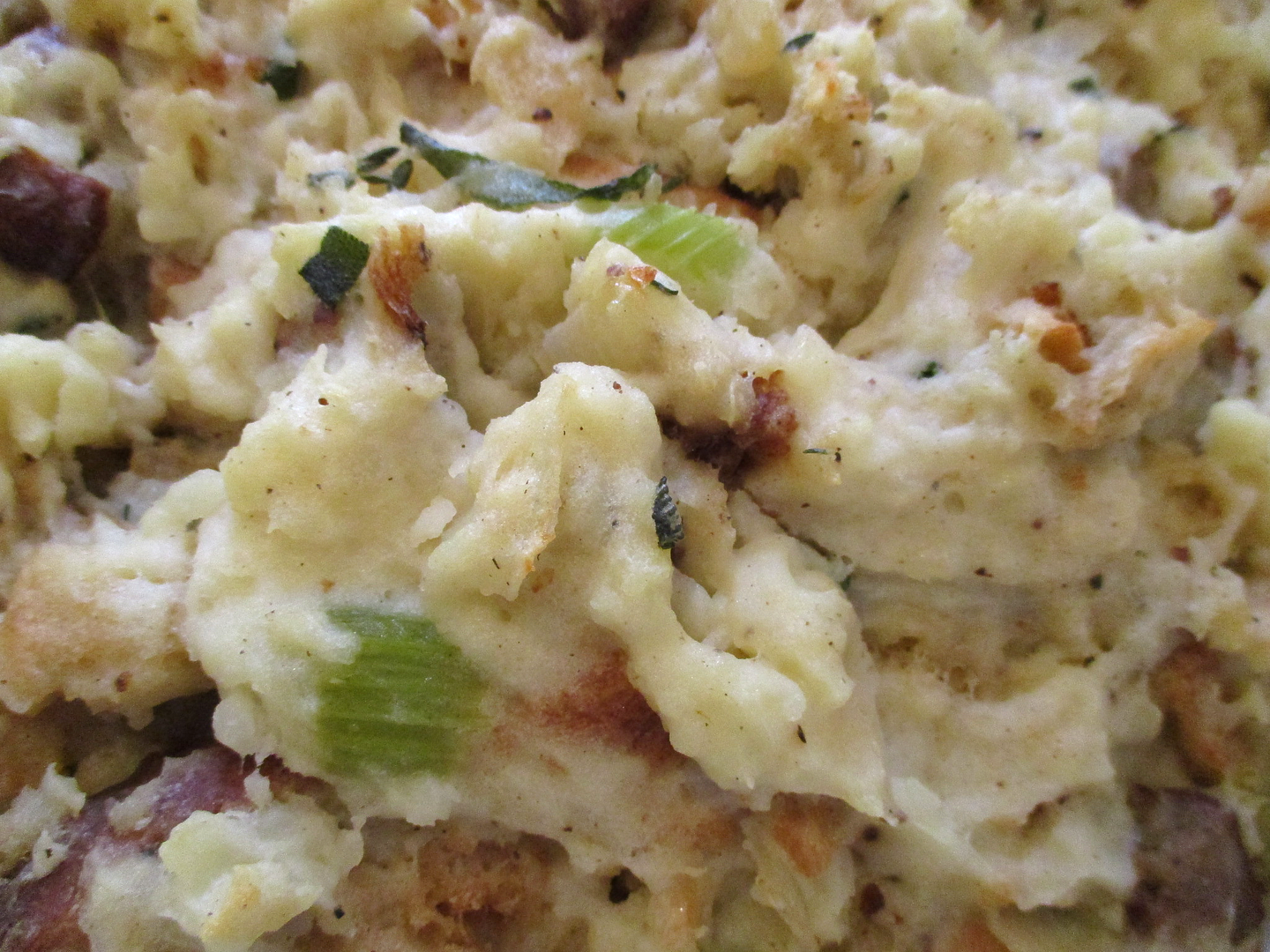 HARICOTS VERTS WITH BACON AND CHESTNUTS
(GOURMET MAGAZINE HOLIDAY SPECIAL EDITION 2011)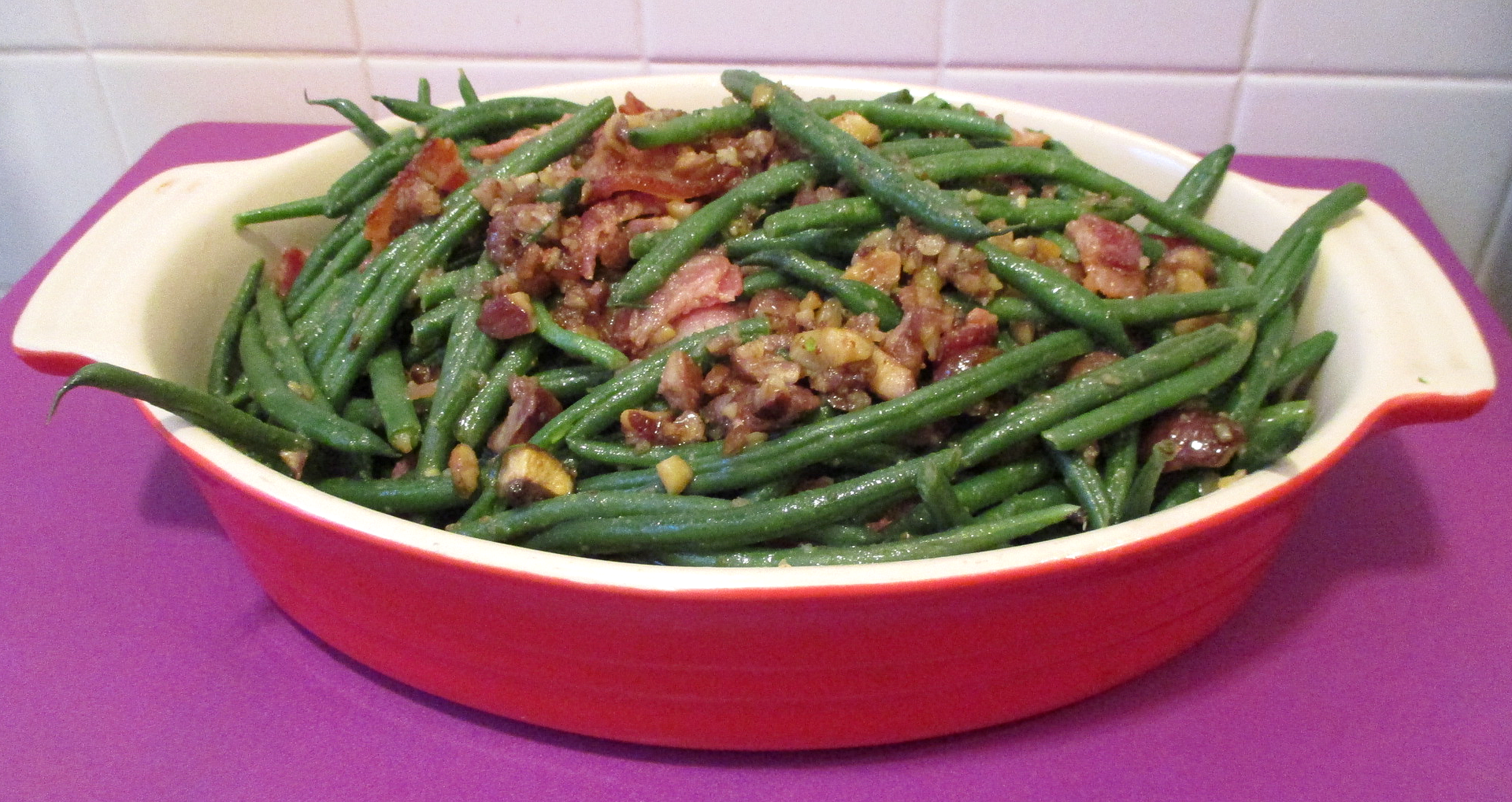 here's the thing about chestnuts: i have never eaten one. i know them from that nose-nipping song about roasting them, and the smell of 'em wafting out of a million little wheelie carts throughout the city is the very essence of NYFC, but i've never actually bought a bag for snacking. every year when i'm scouring my magazine stack for all-new inspirations, i always dismiss the stuffings that call for chestnuts because what if i don't like them and ruin one of the best things about thanksgiving? but this was such a simple dish (the recipe appeared in the magazine's "easy thanksgiving" section), and it is made entirely on the stovetop (a serious plus when making so many dishes in a tiny apartment), so i figured if chestnuts turned out to be gross, i could just pick them off. but you know what? they aren't gross at all! they are, in fact, smoky and delicious, and the closest thing to meat that a nut can be!
ROAST TURKEY WITH PEPPERONI
(FOOD & WINE SPECIAL COLLECTOR'S EDITION: BEST HOLIDAY RECIPES 2017)
although the side dishes are all-new every year, i'm usually pretty "don't mess with a good thing" when it comes to my turkey, using the same tried-and-true recipe for years. however, i've deviated from this process a couple of times in recent years and when i found this recipe that made the turkey look like it had a skin disease, well, of course i was in.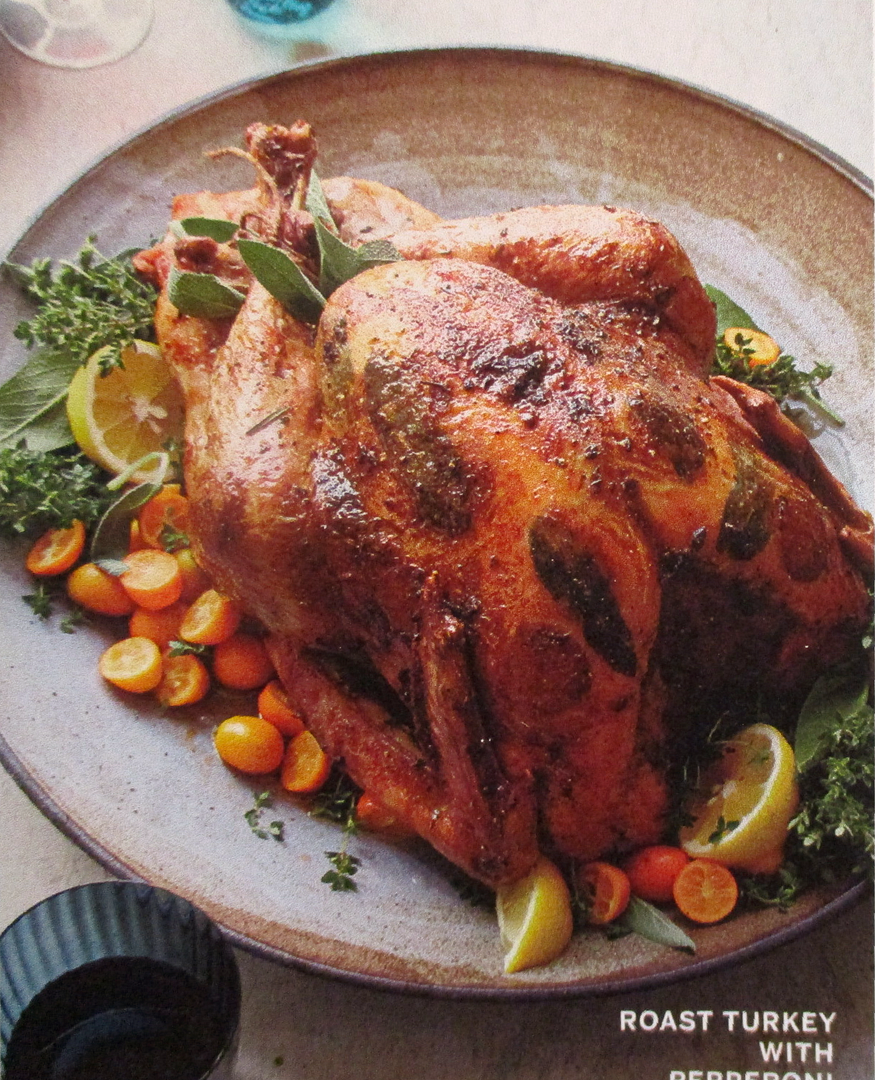 i'm gratified to see that even with professionally-paid photographers, they got some glare/shine on their bird, too.
at 25+ pounds, this is the biggest turkey i have ever thanksgivinged, and because of THANKSGIVING MIRACLES, it cooked 2 hours sooner than my turkey-math had prepared me for. and now i know what preserved lemons are, unlike the undelightful person at trader joe's.
it wasn't as leprotic as i'd hoped, but you can see the sage leaves lurking like sharks in the water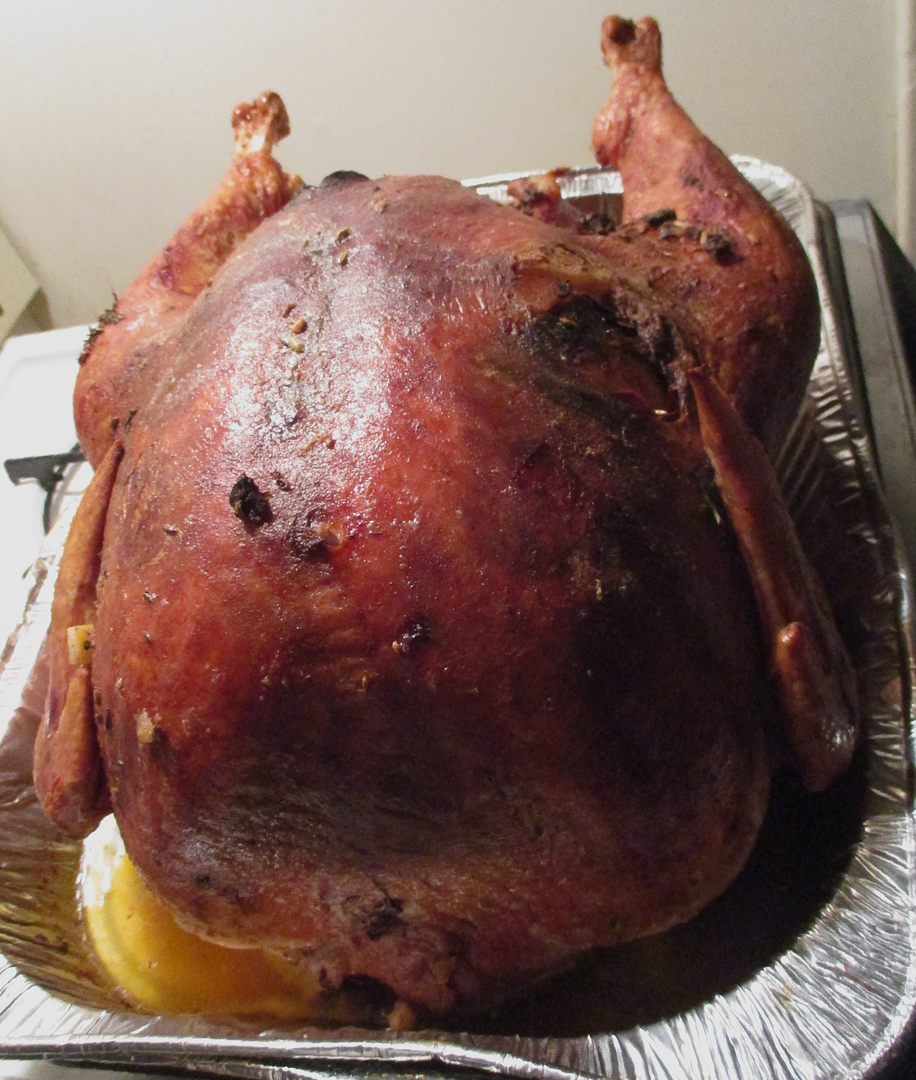 admire its perfectly burnished skin
not pictured/cropped for vanity: my sweaty triumphant face as i hoist this dinosaur
you can kinda see the pepperoni here. i don't know that it added much to the actual taste of the bird, but it was exceptionally juicy with perfectly crisped skin and an occasional pepperoni surprise.
it also kind of looked like a screaming monster and i love it.
BOUNTY
just waiting for the diva's grand entrance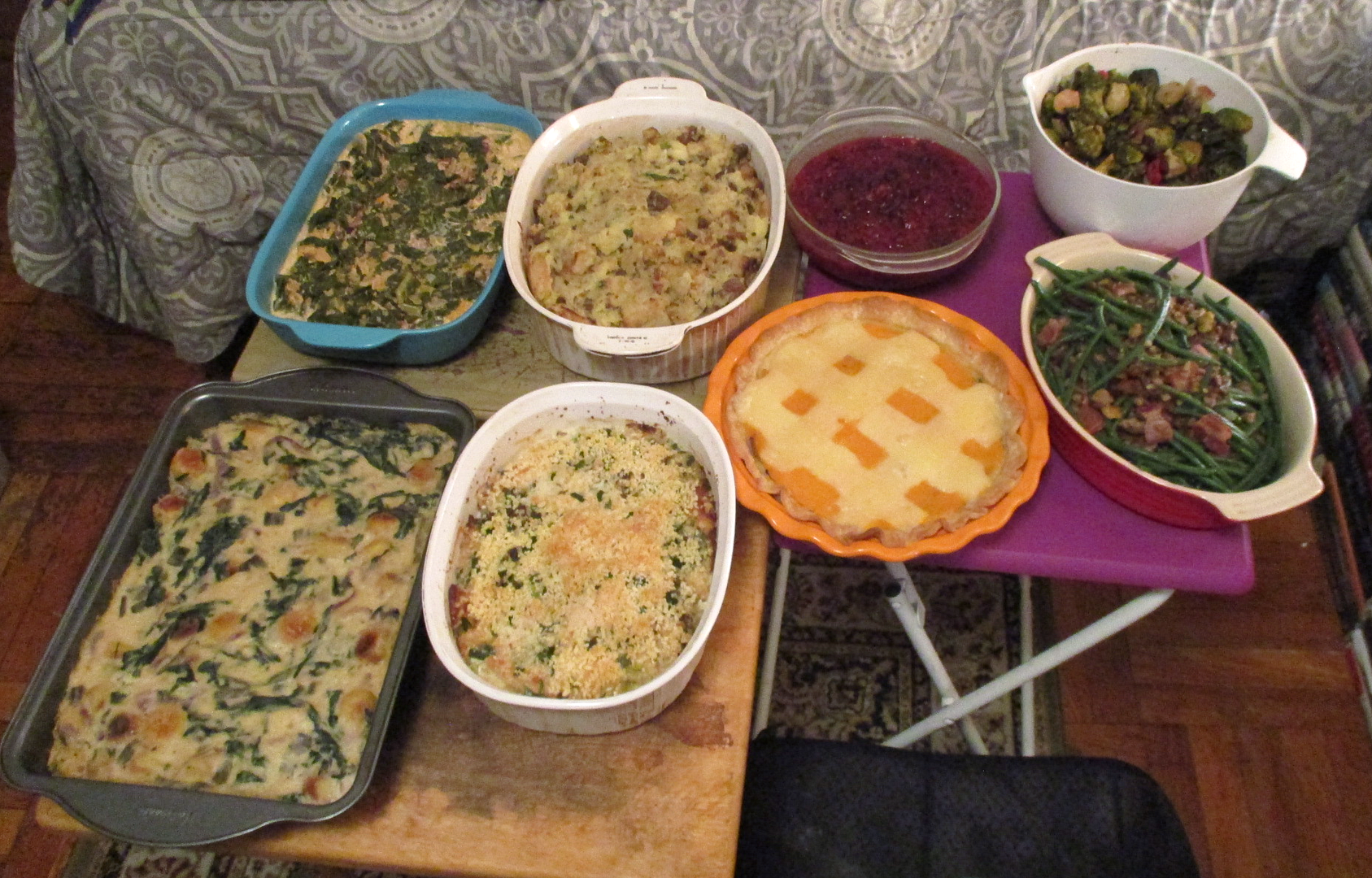 ta-DAAAAAA
AND THAT WAS THANKSGIVING! 
and remember the guy who threw my brussels sprouts away last year? i think he tried to make me forget all of that (I WILL NEVER FORGET) by giving me this little butter-sculpture of a turkey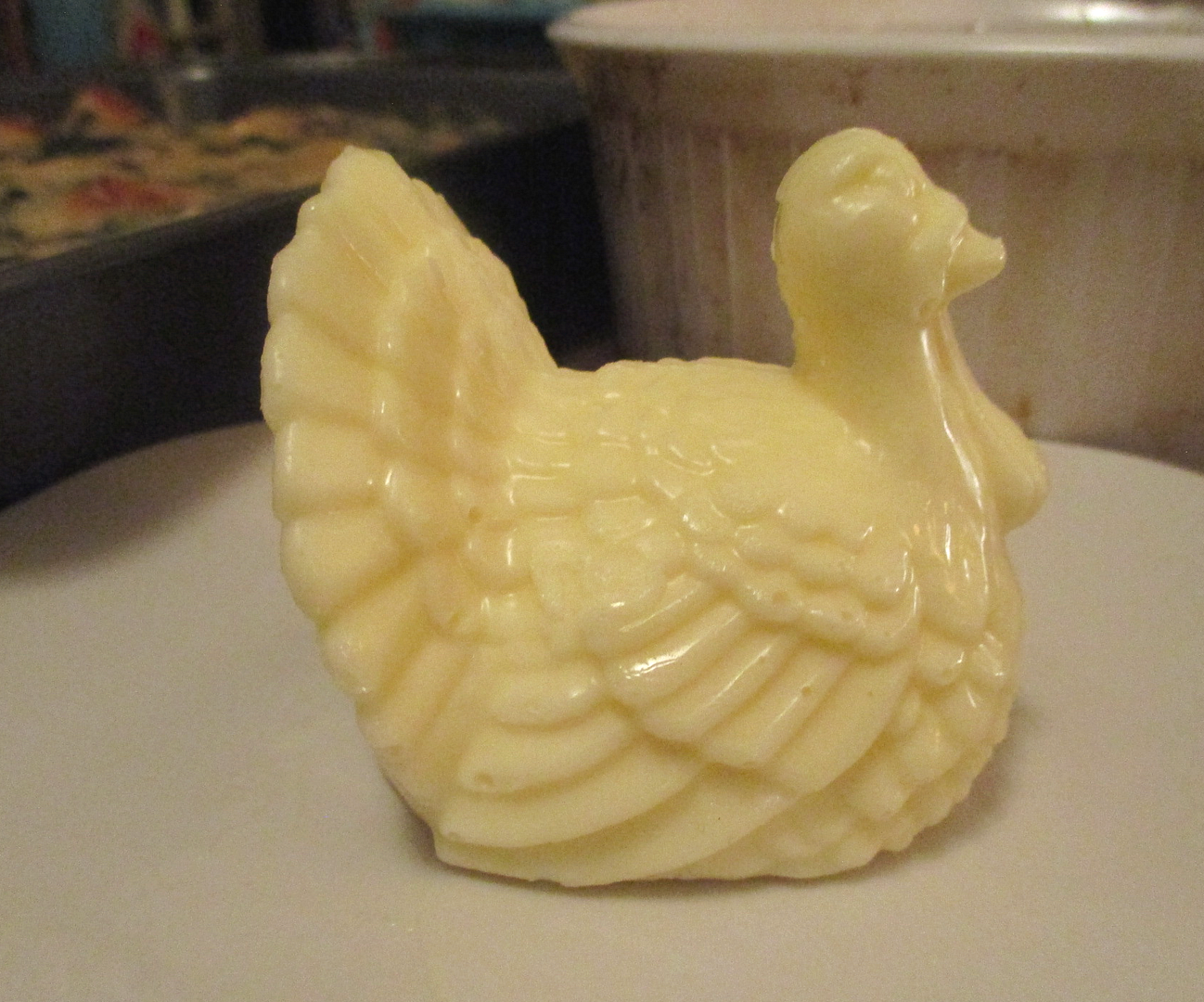 which i decapitated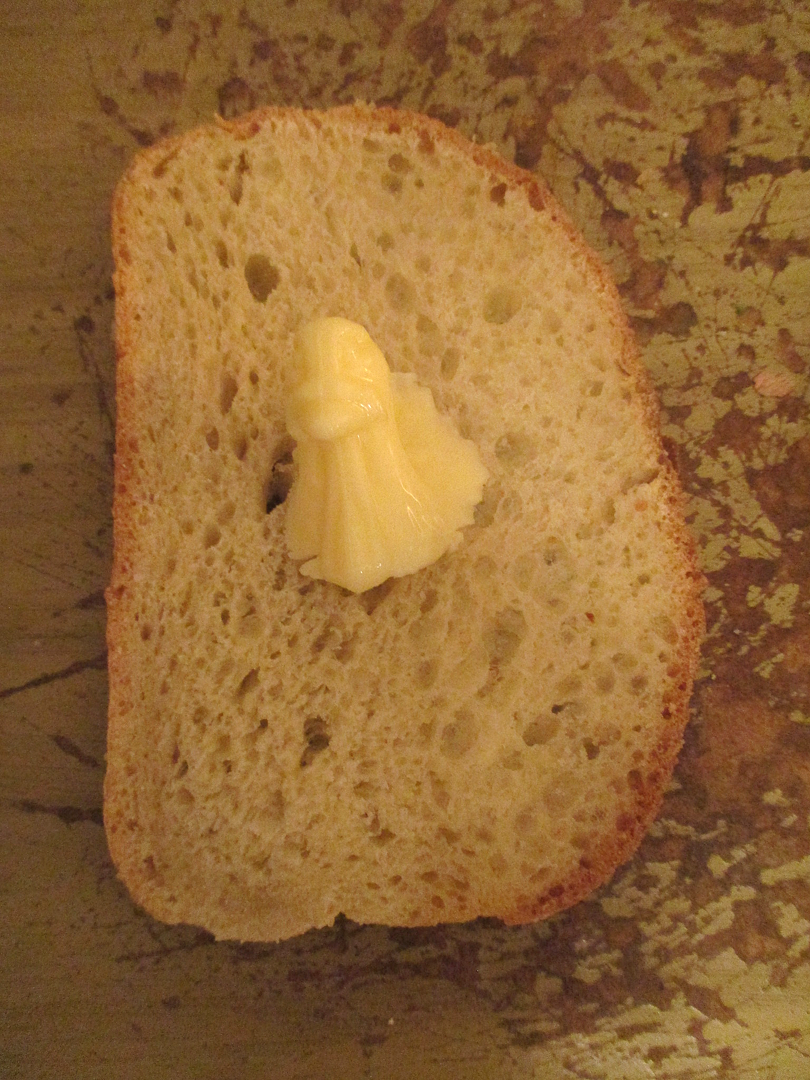 and smooshed.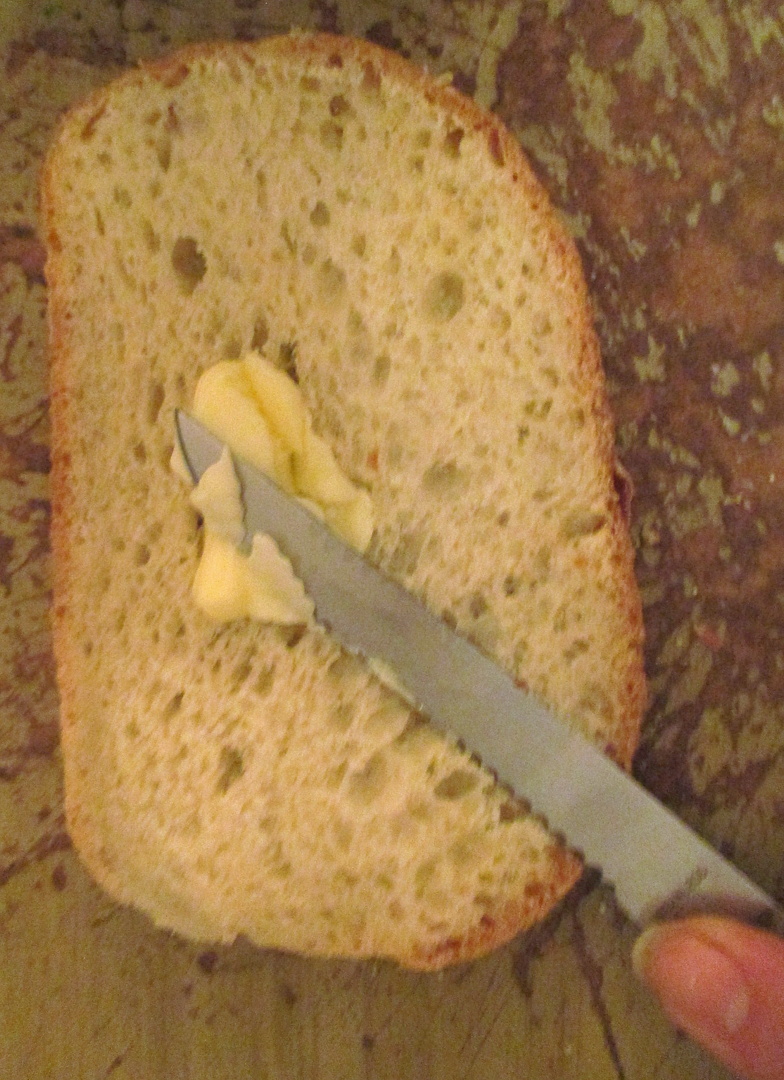 and that's what you get when you mess with my sprouts.
GOODBYE THANKSGIVING! 
links to previous thanksgivings:
2020
2019
2018
2017
2016
2015 (with bonus 2010 archival footage)
2014
2013
2012
2011