i am finally posting my photos of THE GREAT THANKSGIVING TRIUMPH OF 2018, long after anyone who might have cared has given up and moved on with their lives. this is why i will never be an internet sensation, my timing is for shit.
if you are here and you're new to 'karen's unhealthy obsession with thanksgiving,' welcome. i am karen and i love thanksgiving. every year, as early as august, i drag out my giant plastic bin of thanksgiving magazines and my little clipboarded legal pad and i start planning my 10-or-so course menu.
what makes this inspirational (i.e. if i can do it, anyone can do it): i have very little money,  i live in a studio apartment with a studio apartment-sized kitchen and a stove with only one working burner.
what makes this additionally foolhardy challenging: i use all-new recipes every year, i do all the shopping, prep, cooking and cleaning myself, and the thanksgiving guest list is limited: me and sean of the house. leftovers get dispersed, but on the day, it's a very exclusive party.
too much food, not enough space, totally worth it. here are links to previous years, documented on goodreads:
2017
2016
2015 (with bonus 2010 archival footage)
2014
2013
2012
2011
this year, after the first go-round (because this is a PROCESS), i had it narrowed down to 33 recipes, nine of which were stuffings.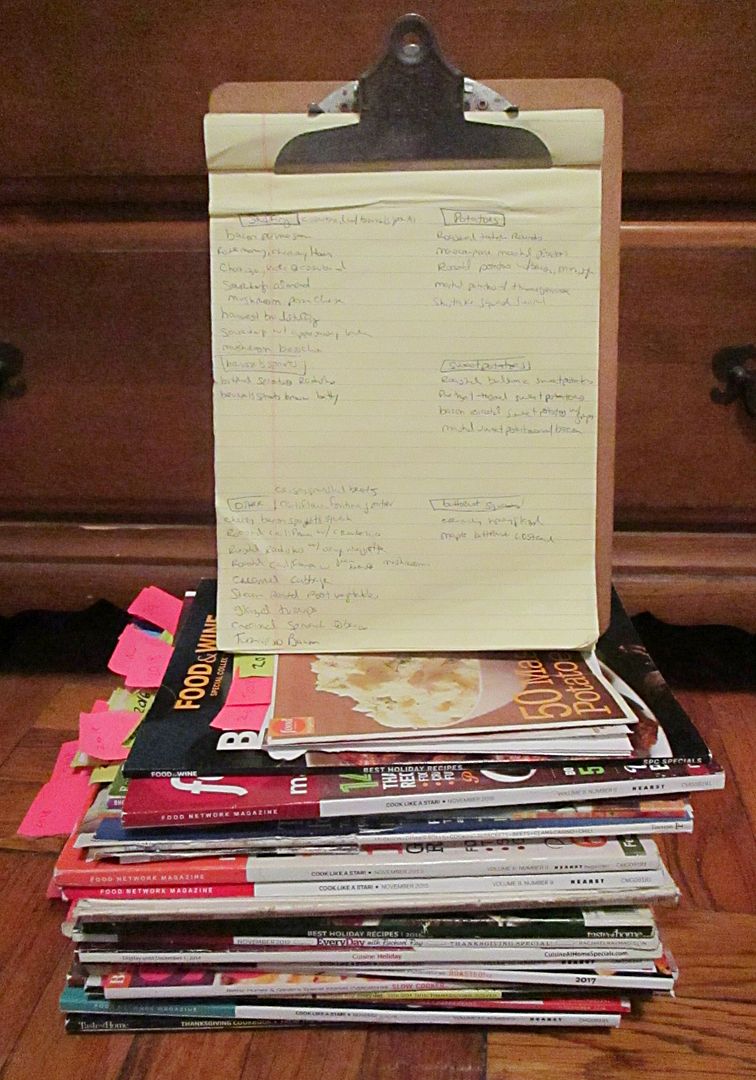 as much as i love thanksgiving and carbs and being ambitious, i (reluctantly) acknowledged that nine stuffings was at least seven stuffings too many, so then began the most fraught of thanksgiving traditions — the making of the "maybe next year" pile. someday i will make that creamed cabbage. poor thing has been a runner-up for several years now. i really thought this year was going to be its year, but alas.
the recipes were bookmarked by the chimney with care
and it was back in the vault for these guys. better luck next year!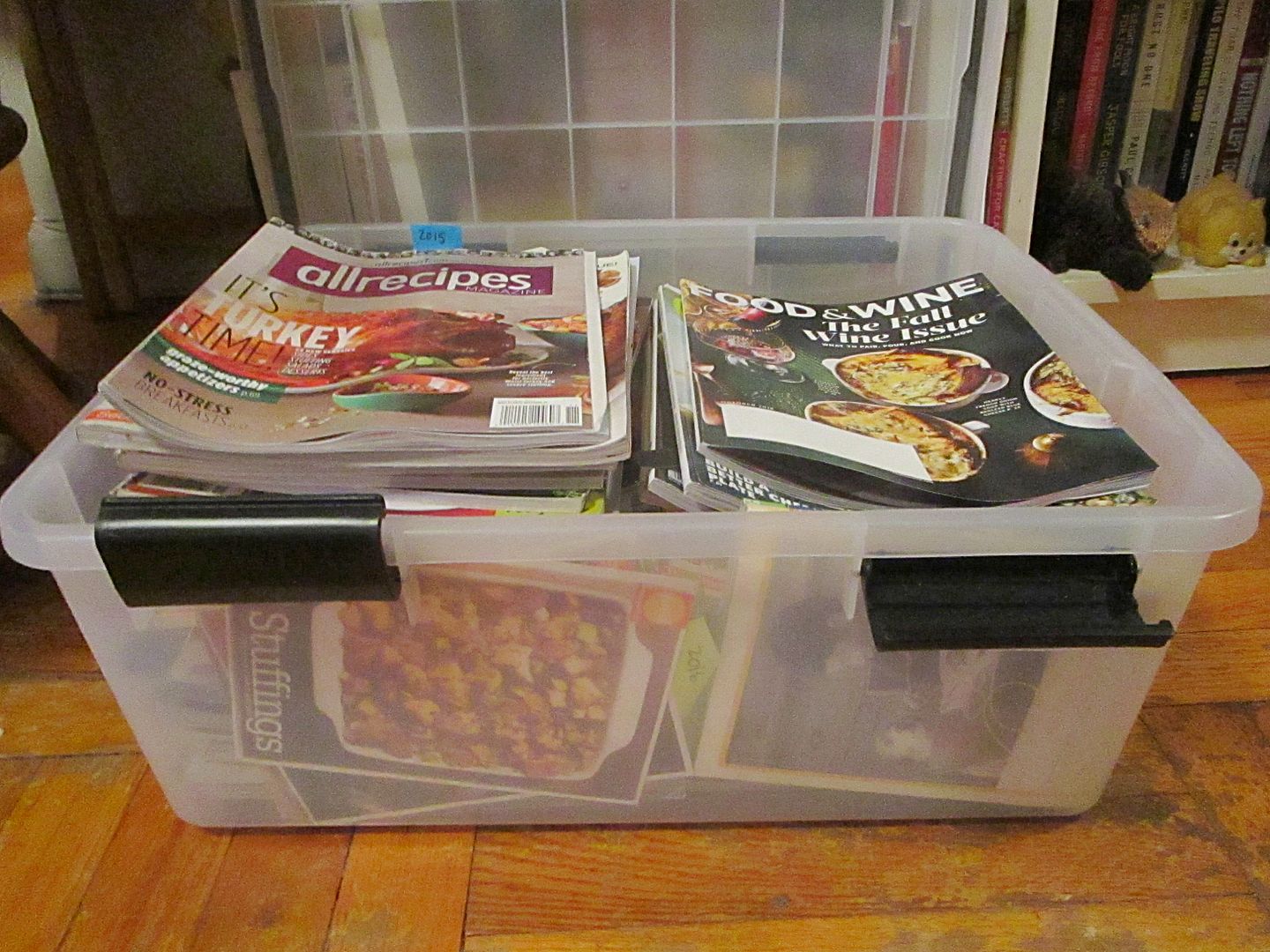 despite being a thanksgiving rockstar, and thrifty as balls in my day-to-day, this is only the second year of my being a savvy turkey shopper. previously, i'd never paid less than 25 bucks for a turkey, and frequently much more than that. i figured that was just the way of the world – turkey was expensive and you balanced the thanksgiving budget out by planning ahead – buying and freezing butter whenever it was on sale, getting the 'who cares?' stuff – the flour and sugar and pepper at dollar tree, suffering through the lines at trader joe's for bargains on nuts and other fancies, and getting the veggies at the cheap produce place under the bridge (which sounds shadier than it is). then last year i discovered the secret of stop and shop and their suspiciously underpriced turkeys. this is probably NBD to people who live in places with proper grocery stores where you drive and park and enjoy reasonably priced food and sundries, but NYFC is expensive, so this is a BFD for me: twenty-three pounds of turkey for under ten bucks.
ACKNOWLEDGE THE SAVINGS!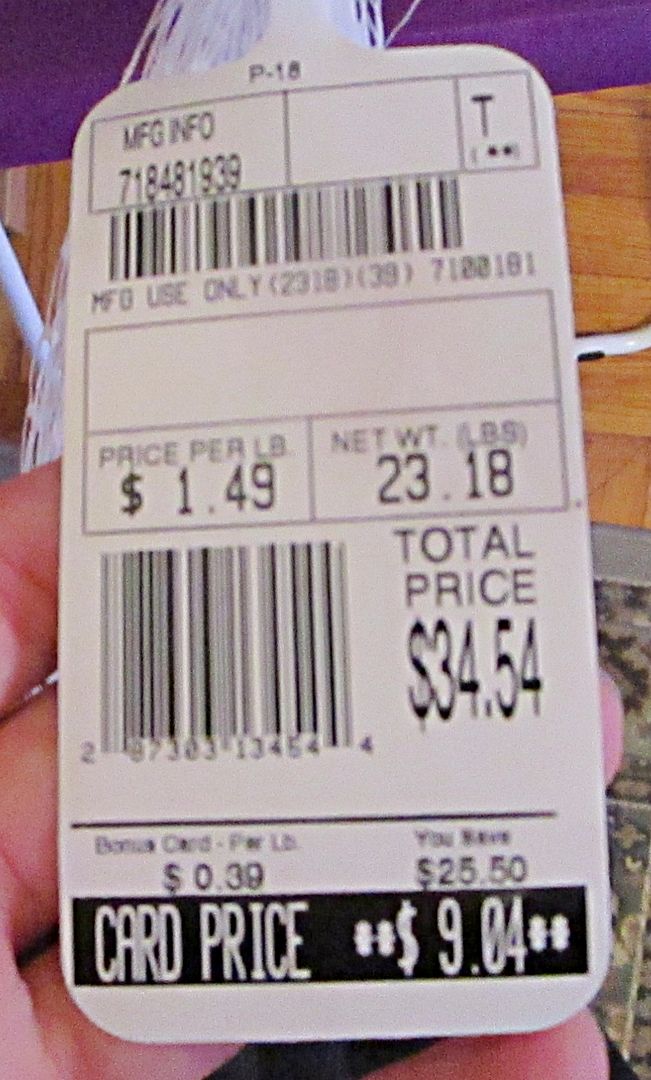 THANKSGIVING MORNING, 7 AM
studio apartments don't come with counterspace. make do and godspeed.
and yeah – i made do. who needs a normal-sized apartment when you've got moxie?
MEET THE DISHES:
CHEESE-STUFFED CORNBREAD
i can take pictures of cheese-stretch all day long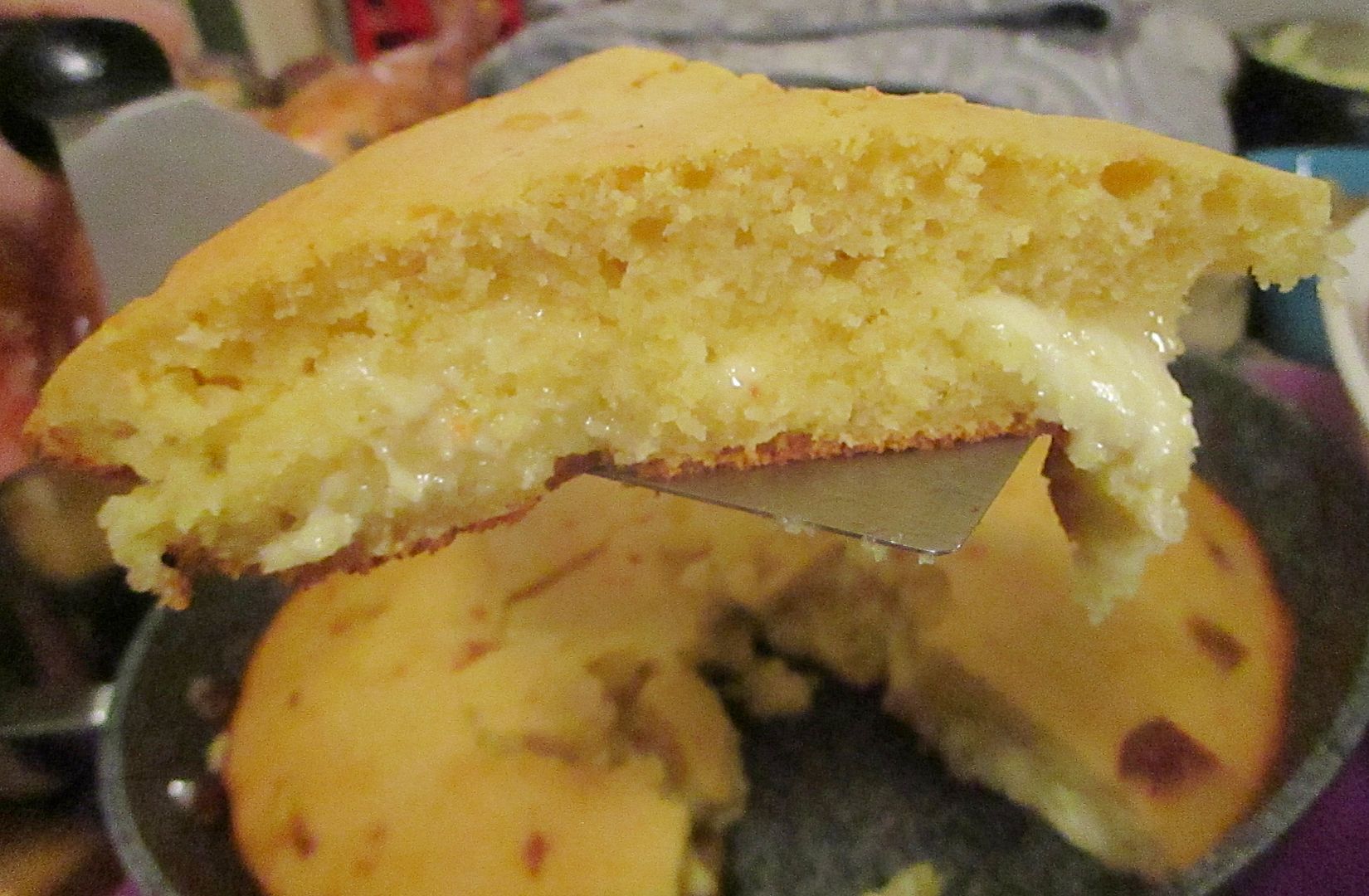 and yes, that is me rewatching buster scruggs in the background!
i did not love this. others did, but i like my cornbread to be at least slightly sweet and this is savory-corny for days. also, lesson learned: while cornbread does not have to be refrigerated, cornbread with cheese sure as hell does. i was suffering from post-thanksgiving brainmelt, and there were casualties.
ROASTED CAULIFLOWER WITH CRANBERRIES
this was tasty – sweet and sour and herbaceous and earthy; all those fancy foodie words.
MASHED POTATOES WITH SAVORY THYME GRANOLA
this is the granola part: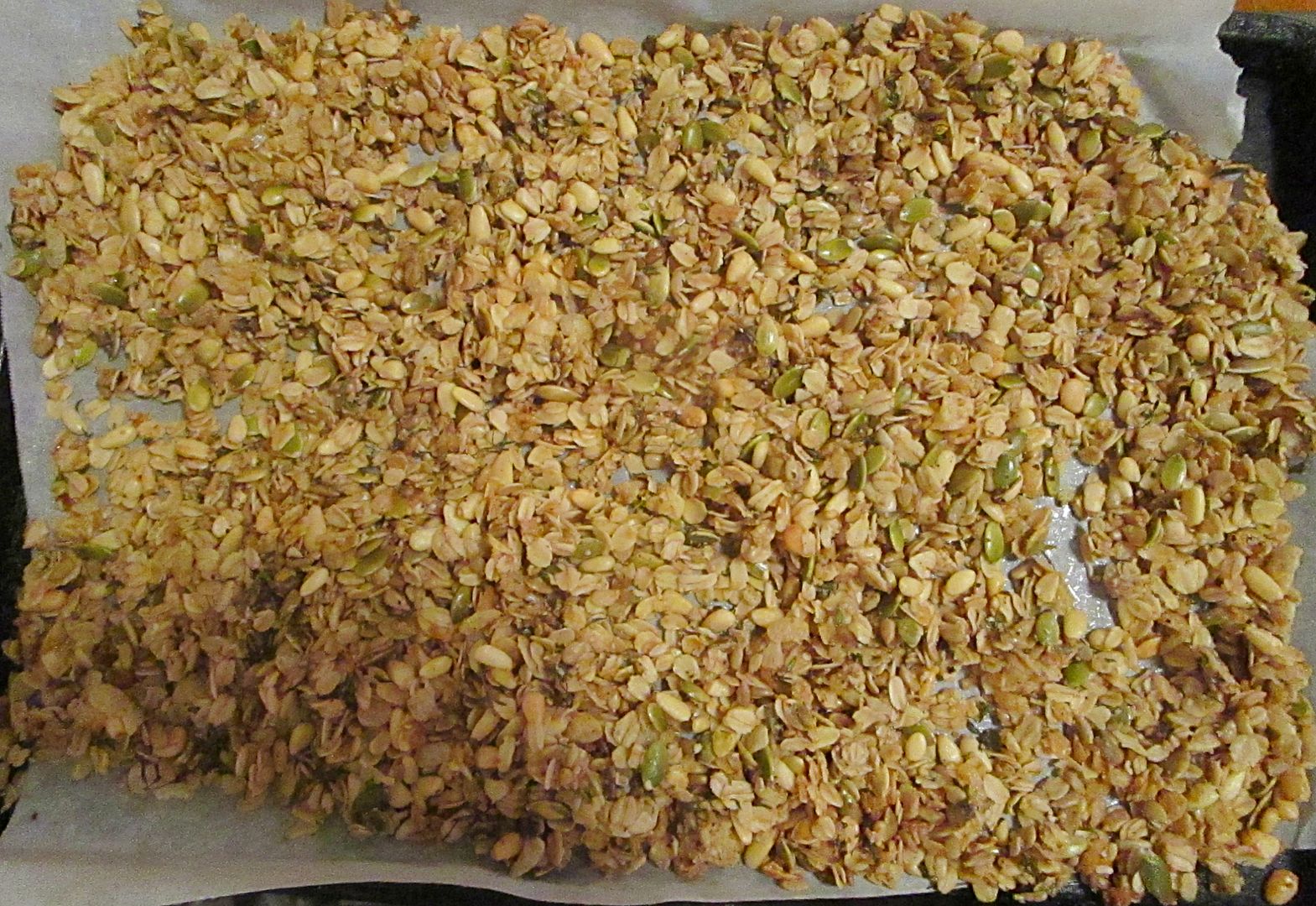 the potatoes were just plain jane potatoes
but then – encrusted! bedazzled!
i have a lot of extra granola. i'm putting it on everything.
CRUNCHY HONEY-GLAZED BUTTERNUT SQUASH
mine was nowhere near as pretty as the one in the magazine – i'm pretty sure they used legos and funfoam to make it architectural, but it tasted good, and lord knows i love me some panko.
CHEESY BACON SPAGHETTI SQUASH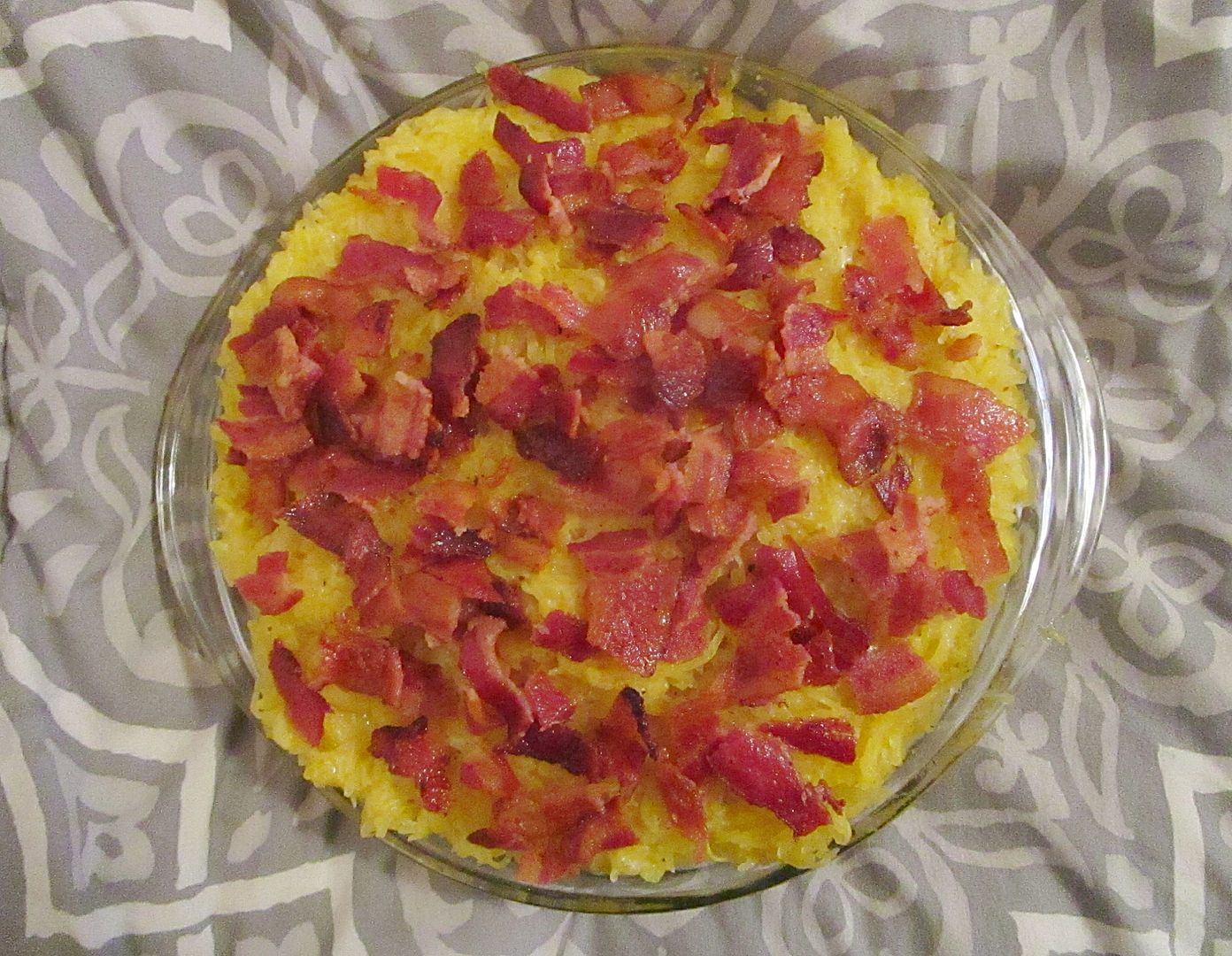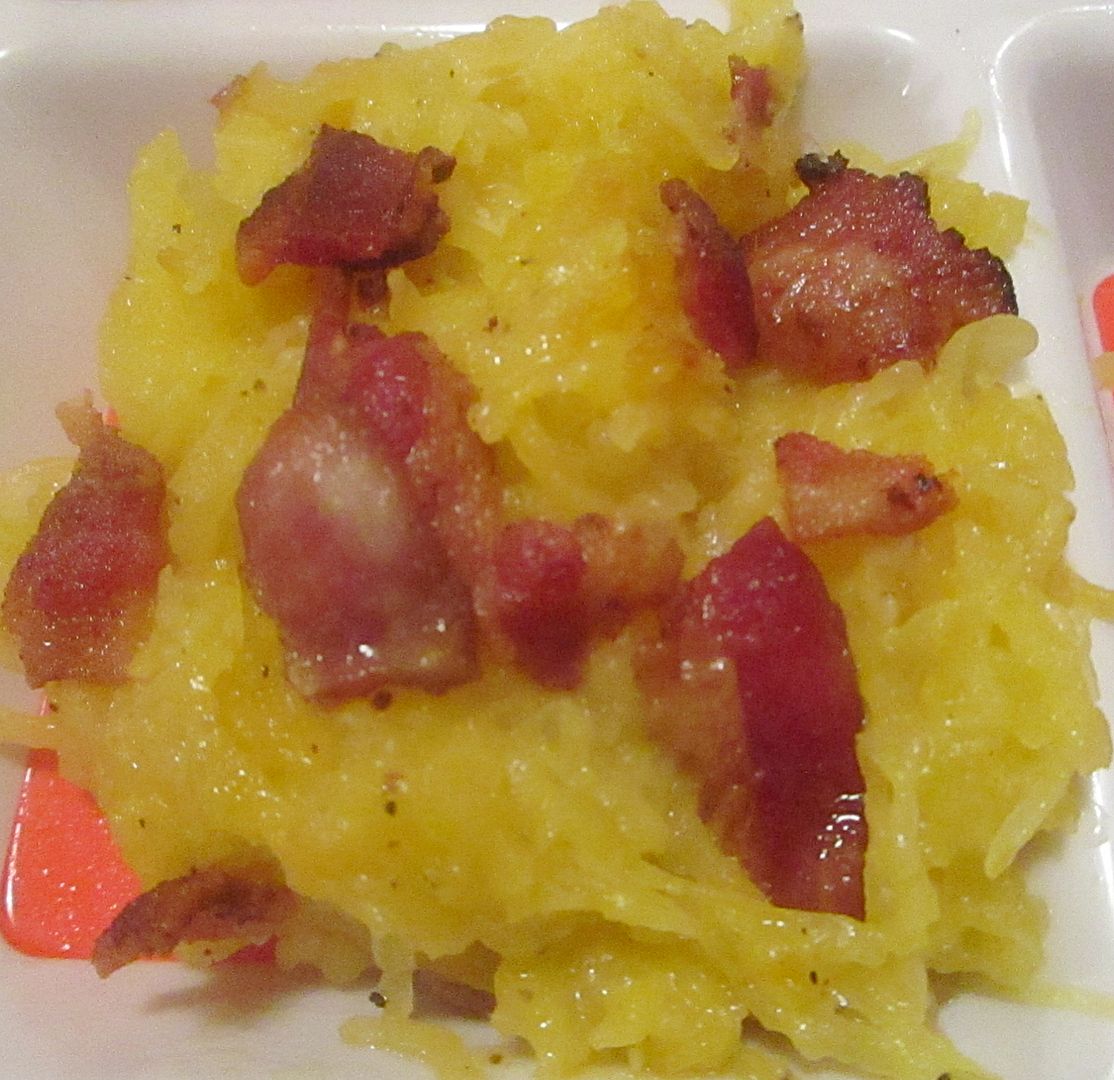 this is the one i was most looking forward to trying and it really came out well. i might even make it again in a non-thanksgiving context. i had never prepared spaghetti squash myself before and it was like WHAT IF FOOD WAS A GAME and that's what you want out of a vegetable. if you're me.
SOURDOUGH STUFFING WITH APPLE, SAUSAGE & KALE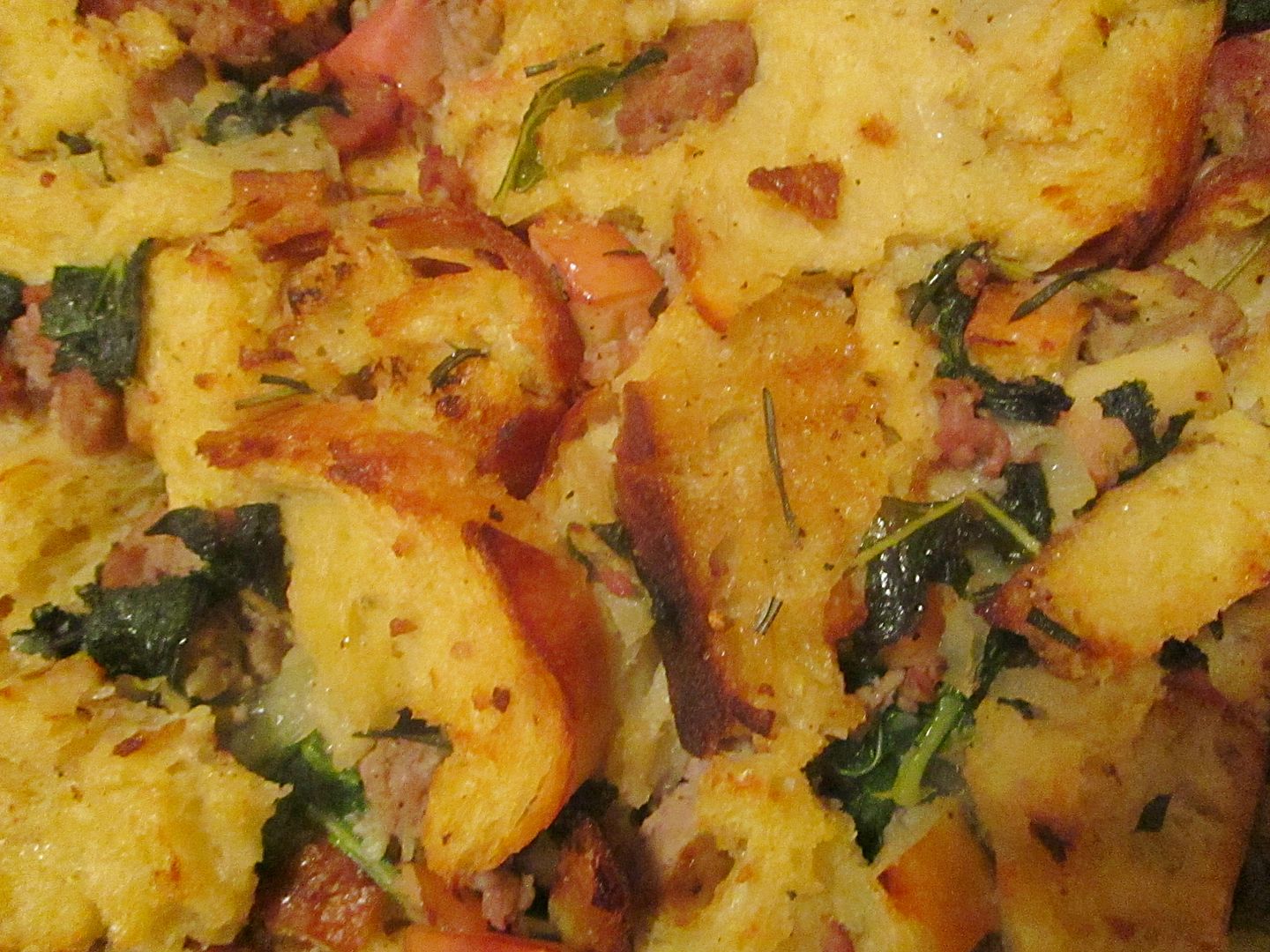 was this stuffing better than the eight stuffings it beat out? i hope so! it was pretty damn good, but what if it wasn't the best?? i feel like i should be auditioning stuffings all year long because it's the most important dish and having to kick so many contenders to the curb each year, untasted, unknown… it's a real downer.
PRETZEL-TOPPED SWEET POTATOES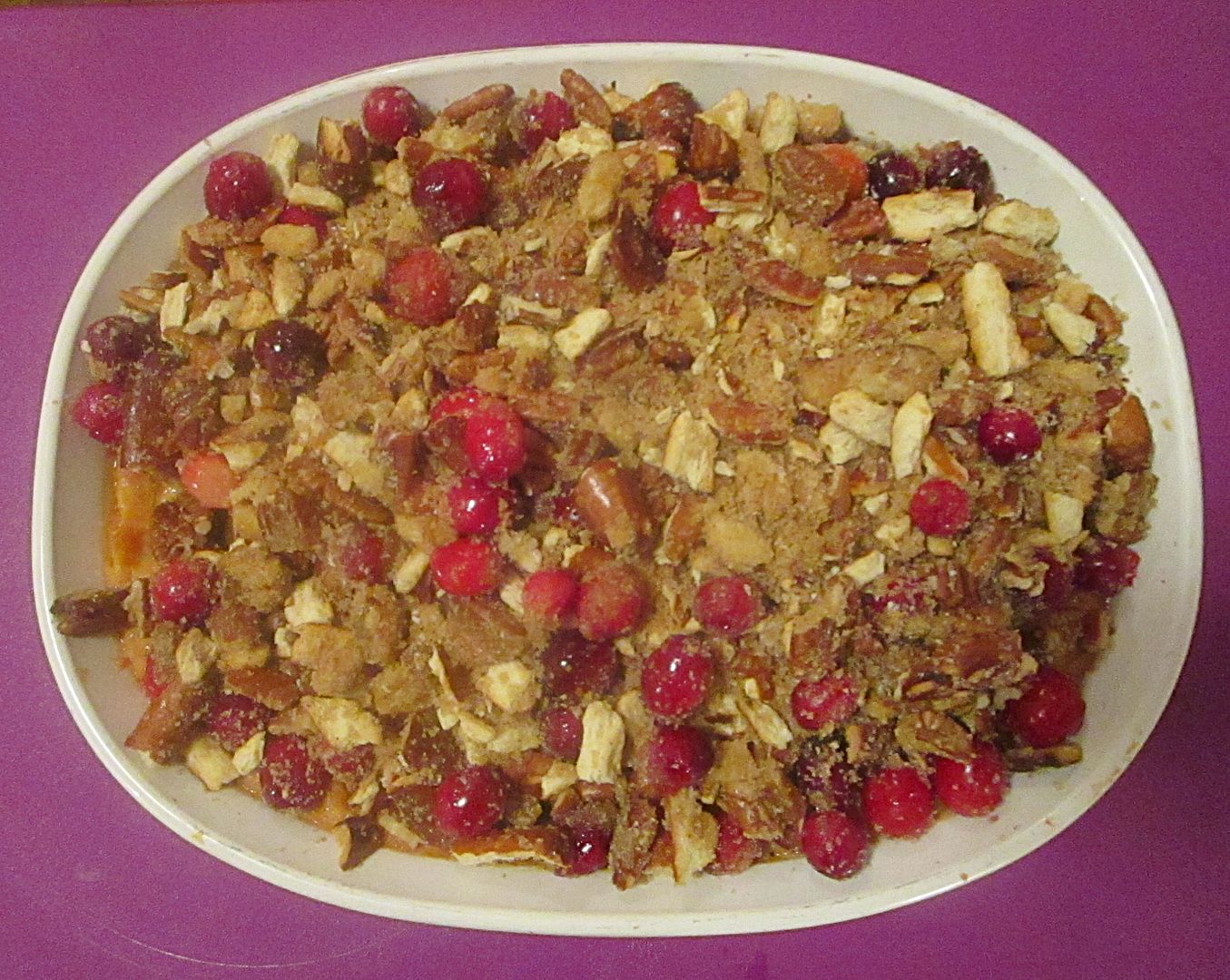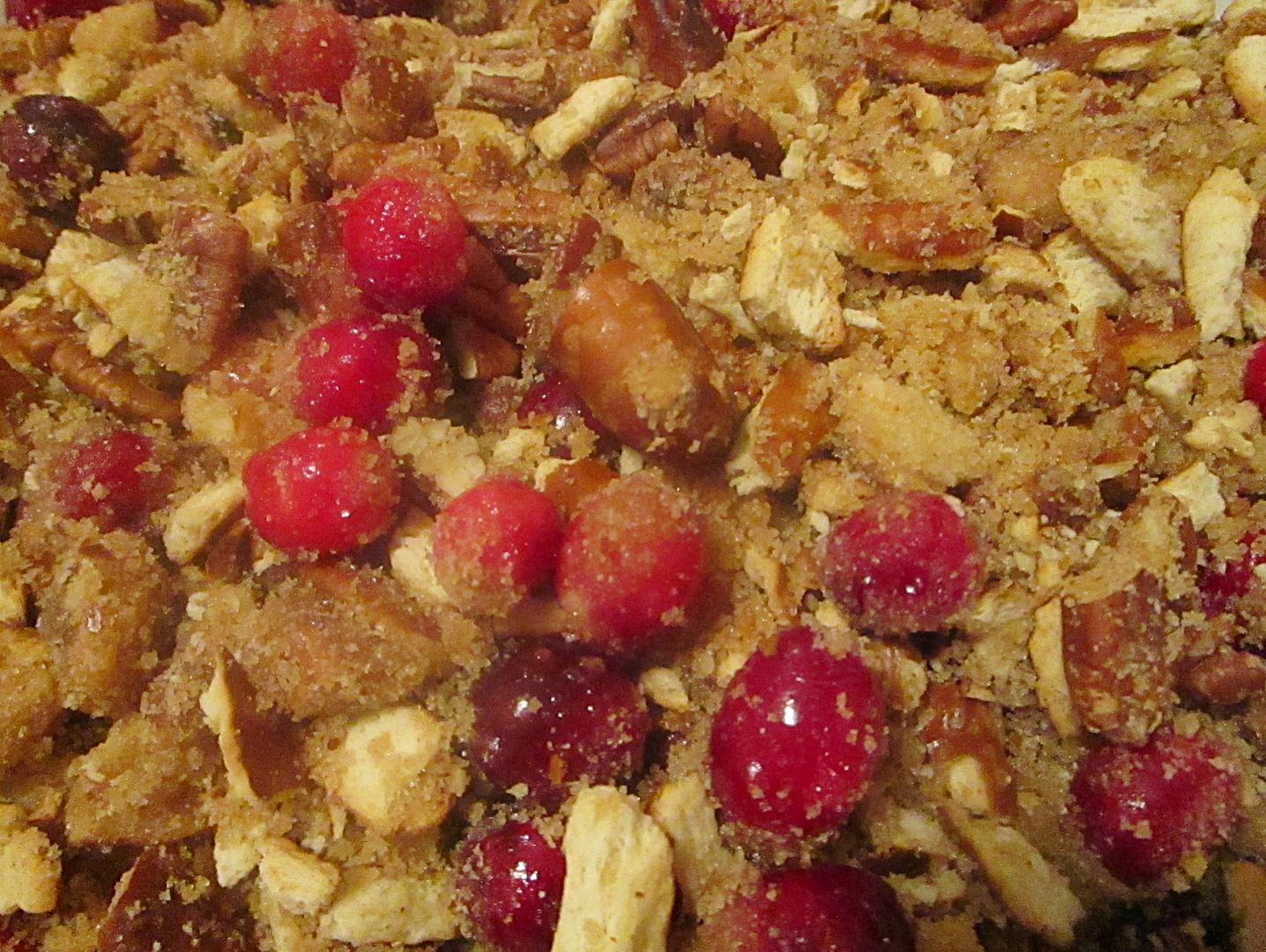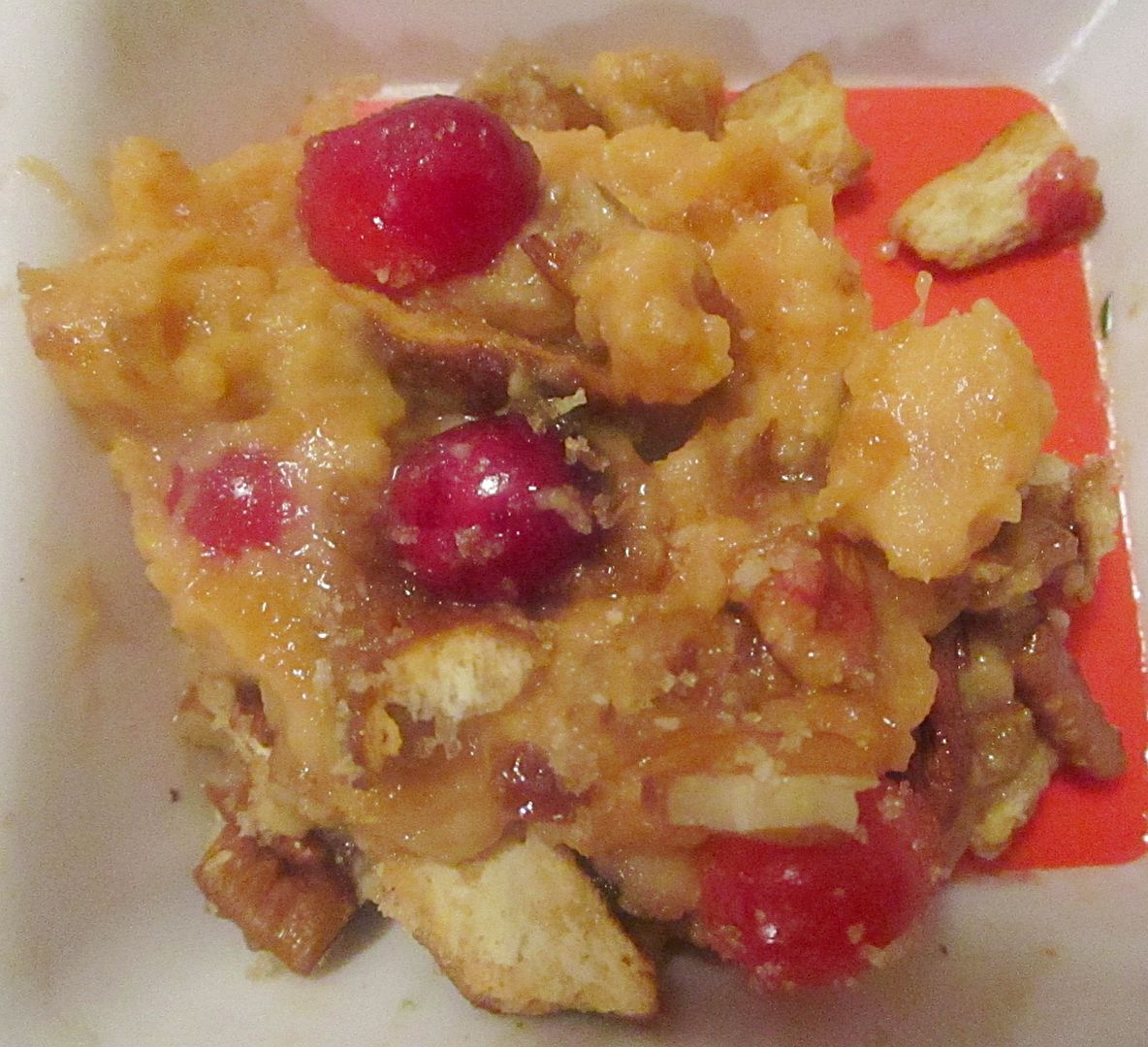 i decided not to use the extra sugar the recipe called for because this thing was already covered in nuts and berries and brown sugar and even though i pretty much run on sugar and cheese, i figured it could do without it. that marshmallow-topped sweet potato dish was never a part of my thanksgiving growing up and, unlike my cornbread, i've always preferred my sweet potatoes to be less desserty. the pretzel crust on this was great, but even without the extra 1/4 c of sugar, it was sweeter than i wanted it to be. i should have dipped my cornbread into it for sugar transference.
BRUSSELS SPROUTS BROWN BETTY
this one was disappointing. despite that glorious dairy-pool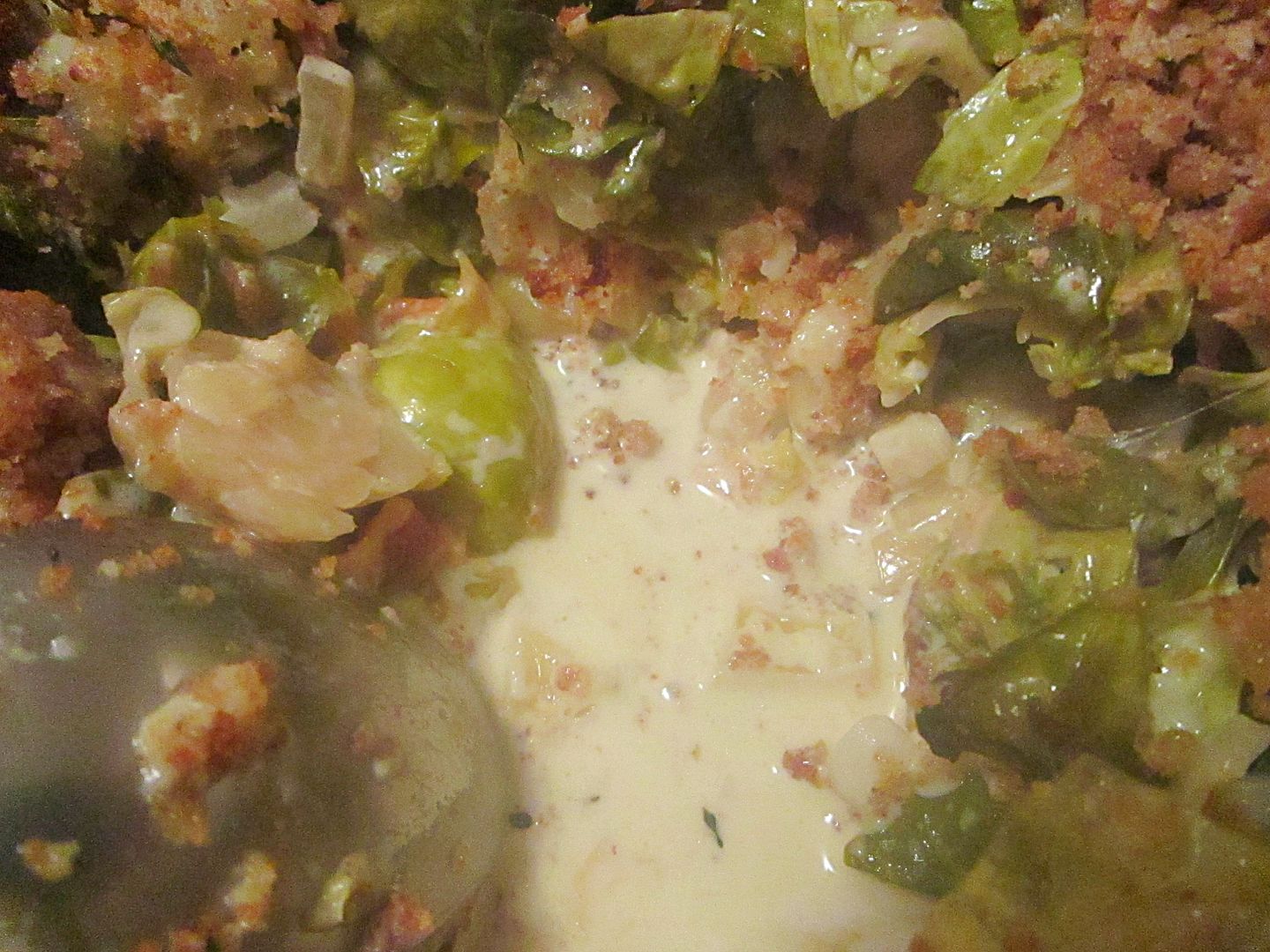 there just wasn't anything special about it. i don't know what kind of revelation i was expecting, but it didn't seem to cohere – it was like eating cereal with not enough milk, all the flavory bits sunk to the bottom and as much as i love brussels sprouts, if i go to the trouble of adding a bunch of other stuff to the mix, i'd like to not have to hunt down the taste of 'em.
CREAMED SPINACH WITH BACON
this was my favorite. it was actually everyone's favorite. this one also had a little dairy-pool
but it was perfect – rich and flavorful and salty-licious. and the next day, just me and a spoon, eating it right out of the fridge. i miss it. i really miss it.
TRAY OF ROASTED VEGETABLES
this doesn't really count as a dish, but i made 'em, so i documented 'em. these are the vegetables i usually scatter around and beneath the bird as it cooks, but this year my bird was too big to accommodate them, so i just gave them their own space.
raw: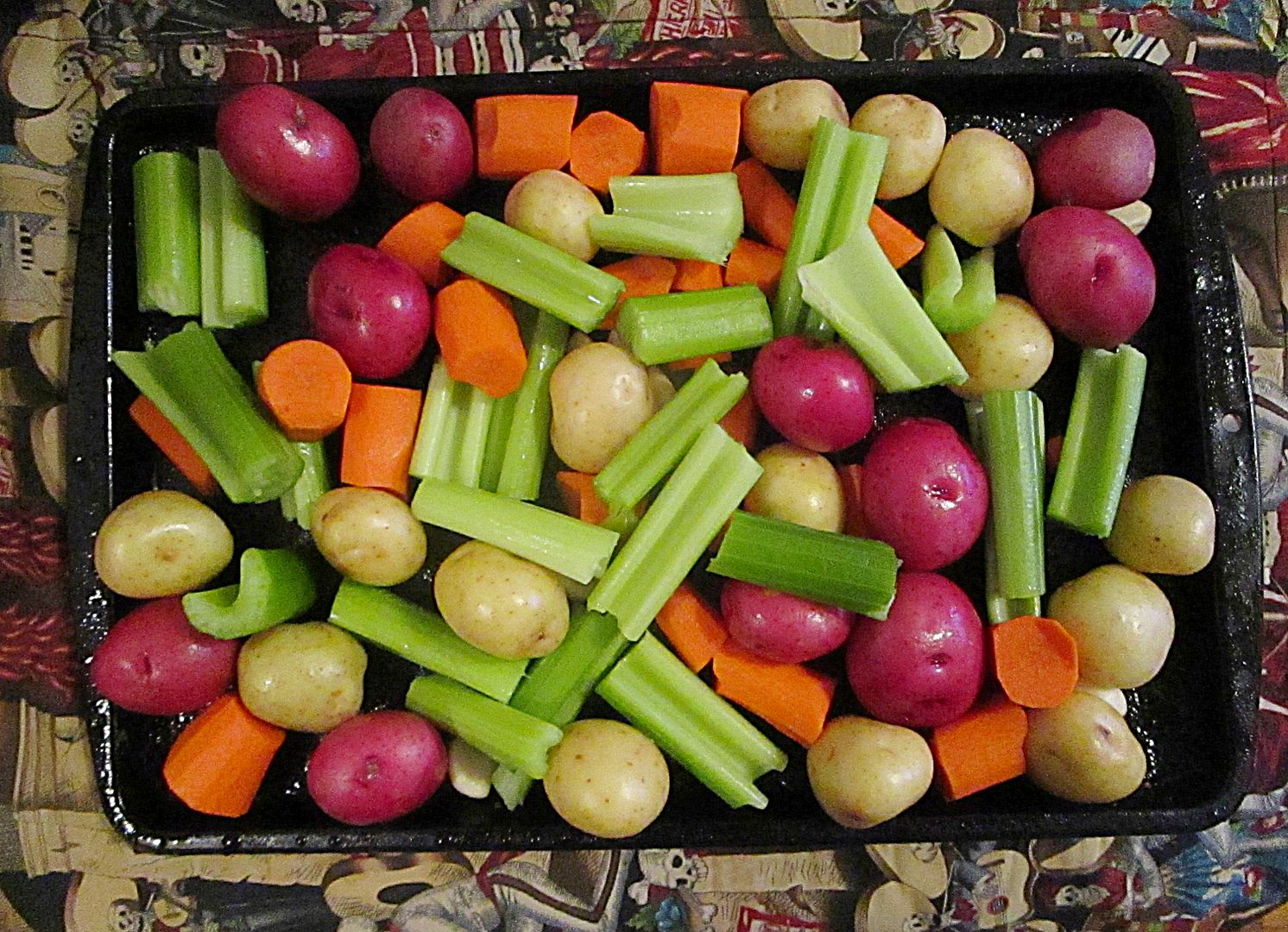 roasted: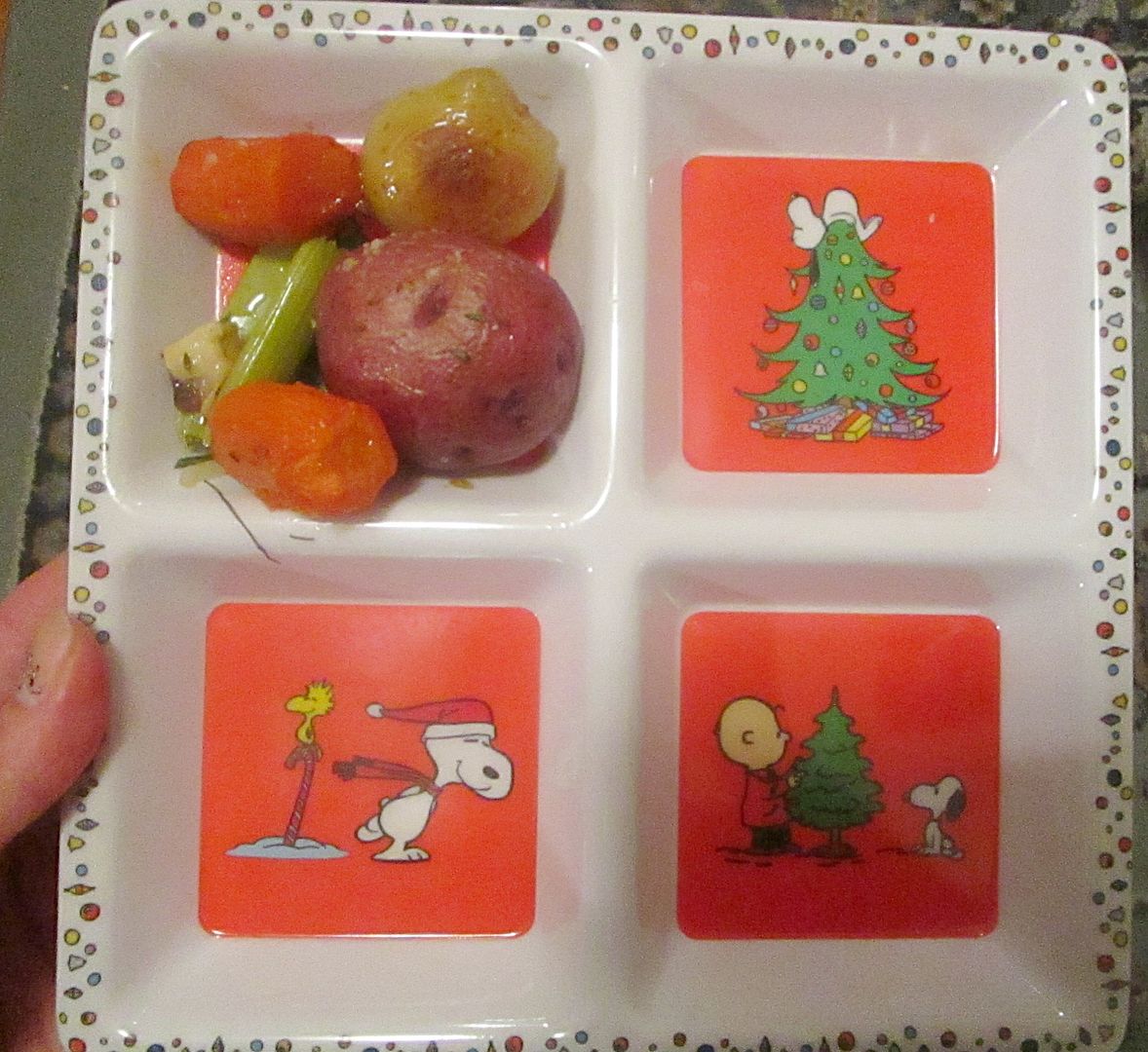 and now we are just waiting for the turkey… admiring the bounty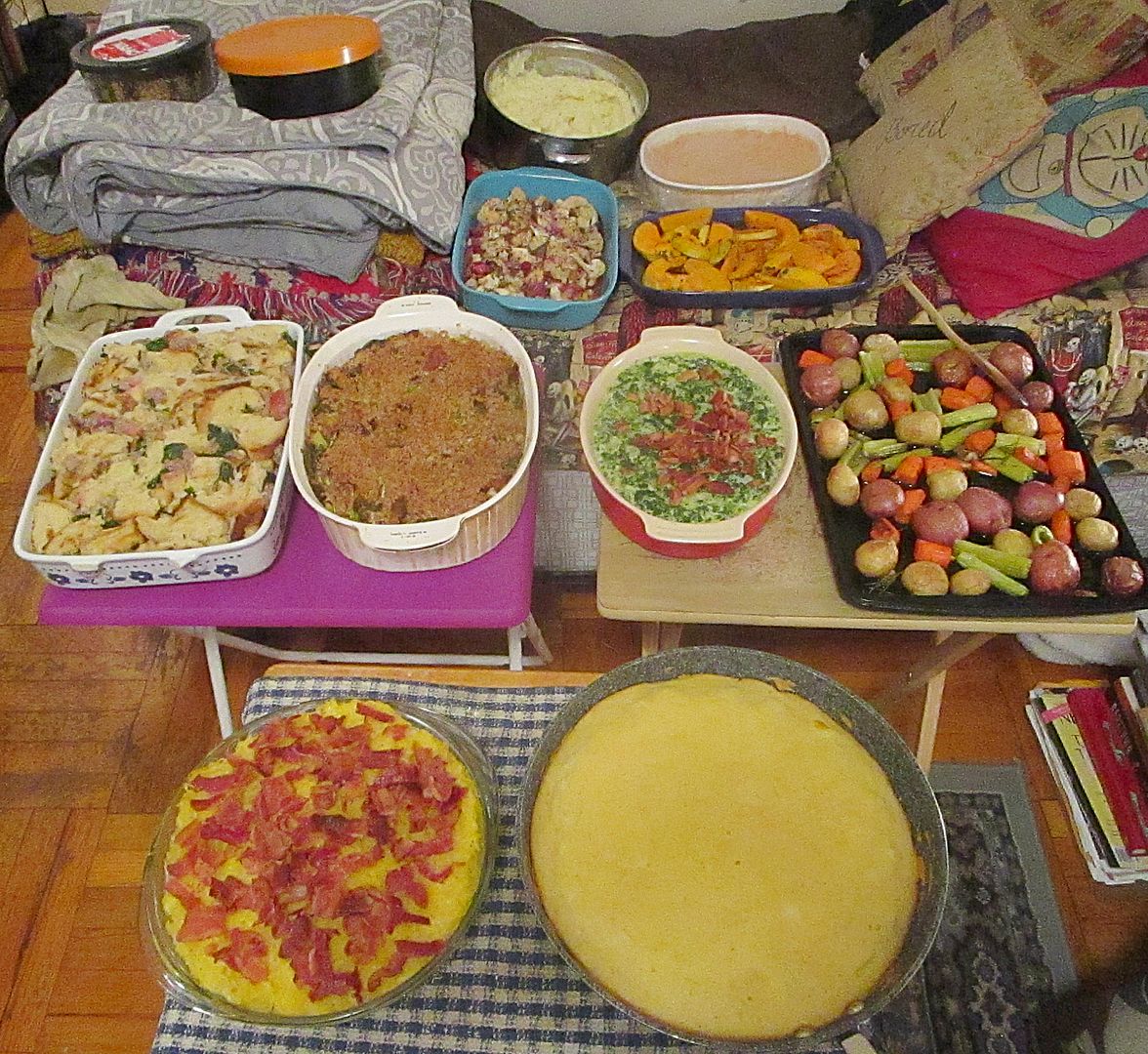 i have earned a drink and a selfie.
and then, TURKEY
bird, you are too big to have vegetable pals! but you roast up real nice.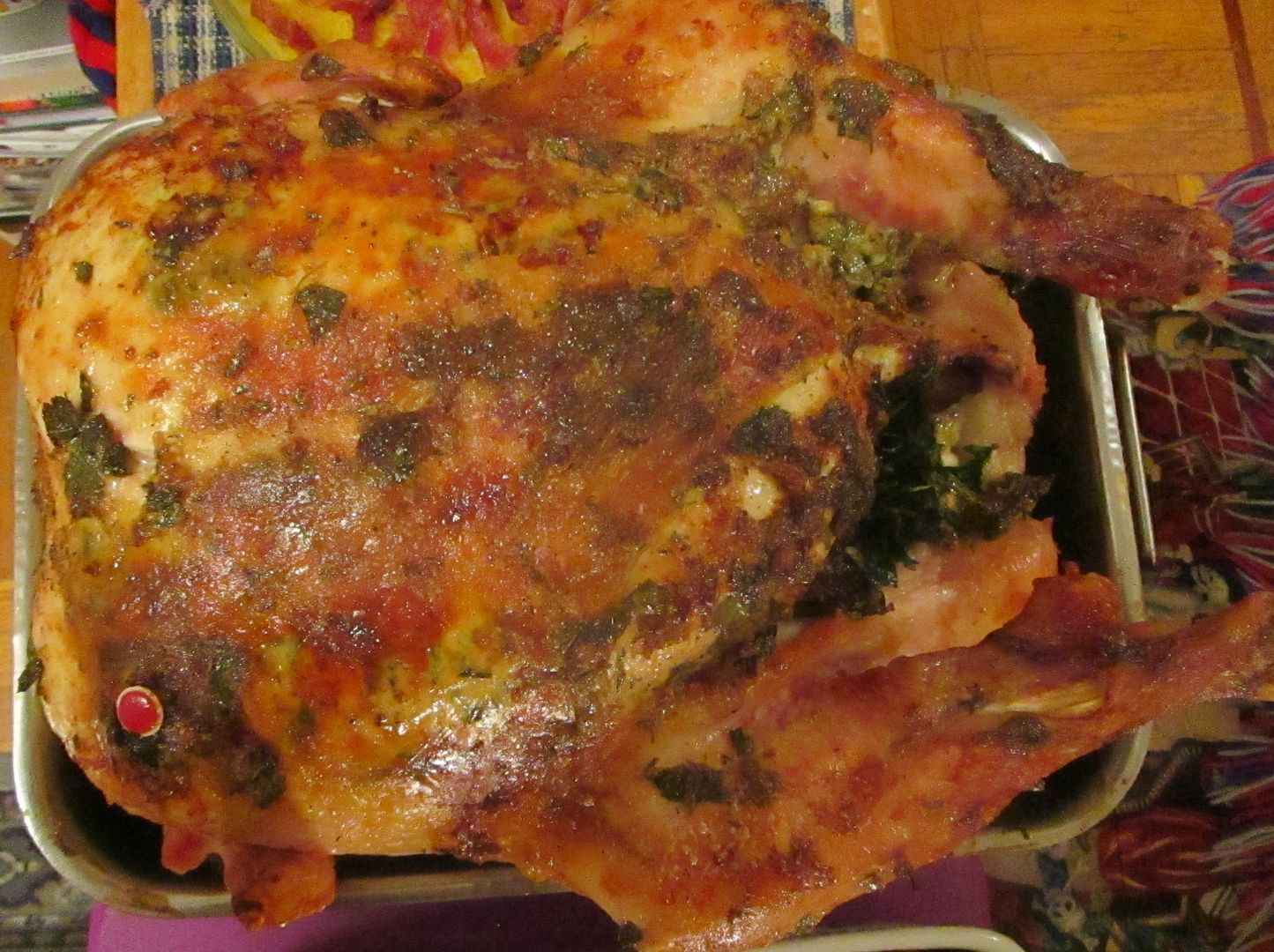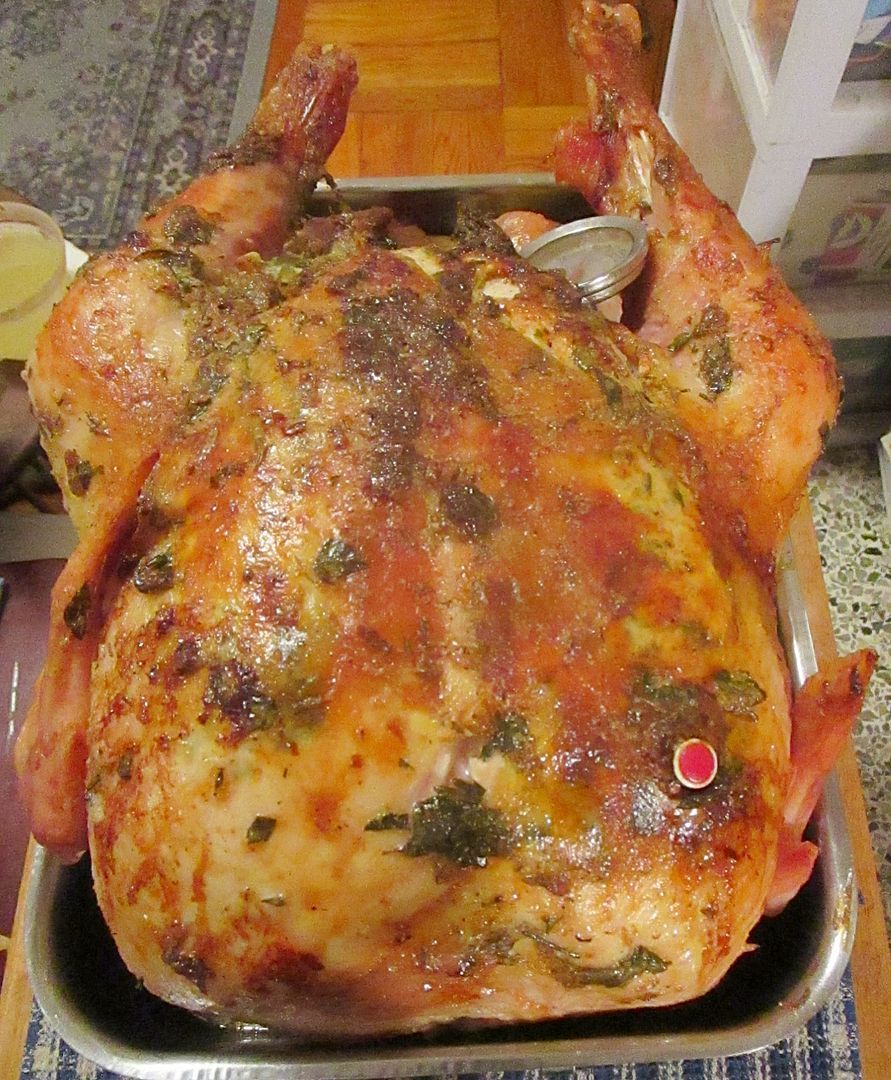 this turkey is bigger than my head and – yes – we are very much in love
this is how many dishes you should have at the end of thanksgiving. because you're a baller who has been through more than a few studio apartment thanksgivings and you know that keeping on top of the dishes is KEY.
and that was that. i am exhausted and proud despite the fact that my kitchen is EXPLODING over my shoulder. although that might be an angelic afterglow. let's call it that.
AND THAT WAS THANKSGIVING 2018!