Fellside by M.R. Carey
My rating: 4/5 cats

orange is the new black… with ghosties!*
man, m.r. carey can write a book. but can i write a review? i'm a little gun-shy, since it seems fans of m.r. carey are people who don't like to know what books are about, and would rather have all book reviews everywhere be reduced to thumbs-up or -down emojis.
i keeed, but i'm not looking for any kerfuffles this time, you hear?
this book takes place in a prison. says so on the back.
jess moulson is a prisoner at fellside – a notorious maximum security prison in the bleak moors of yorkshire. she's been incarcerated for arson and murder, when a fire she unwittingly set while in the throes of heroin burned down her flat, causing injuries to herself and her boyfriend, and killing alex beech, the ten-year-old boy upstairs. she's an addict, but not so far gone into her addiction that she's lost her connection to humanity – she feels utterly broken by what she's done, and neither her imprisonment nor the extensive reconstructive surgery she's had to undergo feel like punishment enough; jess' guilt compels her to go on a hunger strike to end herself and her memories, or lack of memories, since she remembers very little about that night.
while jess gets weaker and the other prisoners place bets on how long she will live, jess is visited by a ghostly figure in the shape of a little boy that she perceives to be alex, who tells her that he was dead before the fire even started, but his memories are as vague and confused as jess' own. jess promises to return to the world of the living to help alex figure out the mystery of his death. not for her own vindication, because jess is one giant self-flagellating bleeding heart, but for alex himself, to honor the gentle friendship they'd established before heroin eroded jess' ability to have a relationship with anyone except heroin and her heroin-providing boyfriend john.
the rest of the book is spent exploring alex's mystery, but also uncovering the moving-parts underbelly of fellside, with its not-so-secret hierarchies, resentments, debts, contraband-smuggling, corruption, etc. there's enough archetypal character-overlap that you can totally use your orange is the new black playset when you're acting this book out in your head as you read, but know that this prison is much less quirky-with-occasional-violence than your dollies and while it doesn't reach the level of oz-shenanigans,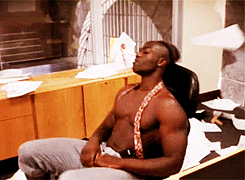 there is a lot of stomping. so much stomping.
it's an impressive novel on a number of fronts: the story is the biggie, because it's sprawling and intense, but it keeps you completely in its world, desperate to know what is going to happen and when and to whom. a subset of this is the number of fascinating POV characters peeling back the layers of the story for the reader as all the pieces start to come together in one big horrible bloody tapestry. however, that unsung hero "pacing" is also a huge factor in what makes this book so gulpy. most of the chapters are fewer than ten pages, 3-4 pages on average**, where each chapter switches viewpoint so you're always being propelled forward at great speed, although not always in the same direction.
this book is totally fun and gripping and also totally different from The Girl with All the Gifts. strong open, strong resolution, some lumpy bits in the middle, but overall really spectacular.
my only problem*** with this book is that i kept forgetting the name of it. and it's not that fellside isn't mentioned enough in the book, because it is, but it was the same phenomenon i experienced when i was reading beautiful creatures – i kept calling this "wildfell" or "winterfell" or "wildside" and eventually just saying "the new m.r. carey book."
still and all, i absolutely adored it. 4.5 with wings.
* which oh my god i just realized is an actual thing:
and is contained in a book i own but have yet to read: 100 Ghosts: A Gallery of Harmless Haunts. amazing.
** through casual flipping, with no mathematical rigor applied.
*** which is not to say that i docked a star cat for this reason because duh, but is a reason i can give without venturing into spoilertown.
————————————————
best week ever – in which i receive three books in the mail i really really want to read and maggie really really wants to sleep on.
best week ever part three:
which i hope will have a much less whiny thread than my last m.r. carey review.
best week ever part one
best week ever part two