Worth Her Weight in Gold by Sarah Gailey
My rating: 3/5 cats

"Bloody stubborn—move!" Houndstooth shouted into Ruby's face as loudly as he dared.
Ruby did not care for shouting.
i broke my own rule with this one -i try not to read any free tor shorts that are attached to books i haven't read; whether they're prequels or fill-in-the-gaps or whatever. even when they claim to be standalones, there's always some detail or treat a newbie'll miss out on that is a reward for a fan.
i would rather be someone who is rewarded than someone who misses out, so i generally bookmark any that look interesting to me with a note about whatever series it's tied to and i figure i'll get to it later. aren't you glad to know all about my process? well, hold tight, because there's more of that to come – this is a series i've wanted to read for a while, because – duh – hippos.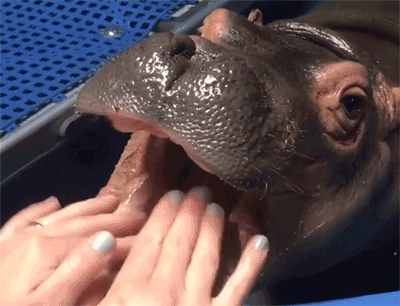 River of Teeth was gifted to me by keith – THANKS, KEITH!! – but i haven't read it yet because they're so damn short i wanted to read them both at once to avoid frustration and when i saw that this two-in-one (LGM) was coming out in may:
i figured i would just pick that up instead of buying the second book whose cover doesn't even have a damn hippo on it so why even bother?
now that you know all of my life choices surrounding this book/author/series, shall i speak to the story itself? fiiiiiine.
basically, it confirmed what i had suspected about reading shorts branching off other works (HA – so all that "who cares?" personal info up there had a purpose! bask in my relevance!) it's a cute story, but i'm pretty sure i would have appreciated it more if i already had these characters under my skin. on the plus side – i liked the rhythm of her storytelling, i was intrigued by the situation, and i even giggled a little bit, so i have a feeling that when i do get around to reading the full hippo tales, i will enjoy the ride, perhaps even more than keith did – HI, KEITH!! i already love ruby the hippo. she's a winning combination of pet and predator and i would like one, please. with or without dental bling.
but i might not be the best hippo-mama – i've had American Hippopotamus on my nook for years, as unread as River of Teeth, so i might just be a hippo hoarder which is not gonna be cool with my landlord.
read it for yourself here:
https://www.tor.com/2018/04/18/worth-…