The Red Lodge: A Ghost Story for Christmas by H. Russell Wakefield
My rating: 4/5 cats

i liked this story, even though i really wanted it to be anachronistic Twin Peaks fanfic.
my brain is broken and refuses to allow me the thrill of being scared by books, so when i do read scary things (always hoping, hoping), there's gotta be something there that hooks me beyond the flat-observations of, "oh, here is where i should be feeling terror. thanks, brain." and it can be anything – an unusual supernatural adversary, a prolonged ambiguity about "is it ghosts or is it maaaaadness?" or some kind of literary jazz hands putting the horror in metaphorror. no, wait, subtracting the 'horror' from metaphor-ror. i am as lousy at math as i am at wordplay.
anyway.
it's a haunted house story, and one of the first things that worked for me was how the house introduced itself as haunted – not as a big crumbling gothic with a spotty reputation and well-advertised deaths, but more eerily:
My first vague, faint uncertainty came to me so soon as I had crossed the threshold. I am a painter by profession, and therefore sharply responsive to colour tone. Well, it was a brilliantly fine day, the hall of the Red Lodge was fully lighted, yet it seemed a shade off the key, as it were, as though I were regarding it through a pair of slightly darkened glasses. Only a painter would have noticed it, I fancy.
not a scary cliché, but something slightly off. and that keeps me invested in a spooky tale more than stairs what creak and windowpanes what rattle.
the house's next big move is leaving deposits of green slime all over the place. but not like this: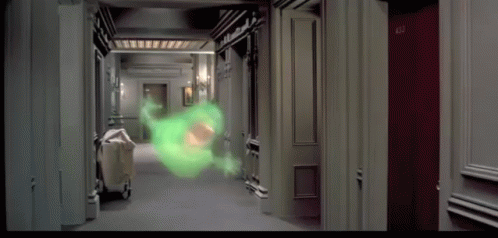 less silly than slimer, more ominous than many of the other stories in this series. there's good intensifying atmosphere here. even if you're not broken in the same way i am broken, it's not going to be NSFU BC U R GOING 2 P (in which that first 'U' stands for 'underpants'), but it's smooth, it has a nice reveal, a little action, A GREEN MONKEY, and i like the final doorslam. "AND STAY OUT!", sez ghosties.
regarding this series: i've really been charmed by all the synopses on the backs of these books. i may go back and add them into the reviews, because that olde-timey sensationalist copy in all-caps seth-font makes me smile every time.
WHAT CAUSED THE DROWNINGS OF SO MANY PREVIOUS OCCUPANTS? WHAT DARK PRESENCE LURKS IN THE RIVER? WHY HAS THE SON GROWN SULLEN AND AFRAID?
good stuff.
a final note on color: i recently learned from watching Eli Roth's History of Horror, via robert englund, that the red and green stripes on freddy krueger's sweater were chosen specifically because they are apparently the most upsetting colors for the human eye to process together. they are also the colors of green pond slime on a maroon rug, upsetting the painter-narrator in this story. they are also the traditional colors of christmas.
ho-ho-horror.
yeah, the wordplay's not going to improve. and i'm not even a little bit sorry.
mission statement copied from my review for One Who Saw
this holiday season, i am going to read through 'seth's christmas ghost stories' line on biblioasis, and i encourage you to do the same. the books are so cute and tiny, you can stuff someone's stocking or dreidel with 'em! the cover art and interior illustrations are by seth, and they are seasonally spoooooky, blending the spirit of halloween with christmas cheer the way nature, and jack skellington, intended.
2 more to go!