The Missing Season by Gillian French
My rating: 3/5 cats

this is the first book i have read by gillian french, so i don't know how this one stacks up to her other ones, but i knew she was a pretty popular YA author, i saw a free ARC, i loved the cover, and i grabbed it with my sticky froggy hands.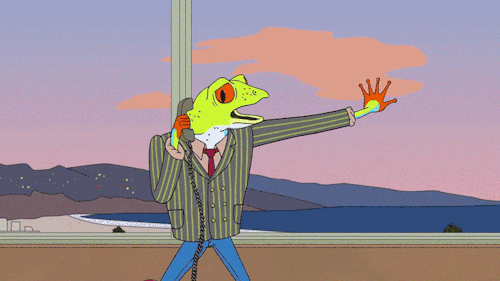 this is YA written for the younger side of the YA curve. and there ain't nothing wrong with that, but most of the YA i've read seems to be aiming for that juicy YA/adult crossover demographic, so the difference is something i noticed when i was reading it. on the one hand – that makes it an easy breezy read, but on the other hand, i was missing the depth and richness folks like patrick ness and laini taylor and melina marchetta bring to the YA table.
everything about this is fine: the characters are appealing, the atmosphere is developed into a fine weave of horror and realism: halloween slendermannish spookiness in one strand and quirky new girl/friendship/enigmatic-boy crush in the other. even the descriptions work:
I swear I've been here before. Not Birchwood Terraces, exactly, but other developments like it, named after the trees cut down to build the place: Oakfield, Elm Park, Spruce Way. We've moved three times in four years, and twice when I was in elementary school, following Dad's construction work, but somehow, we always end up right here.
i know this girl, i know this place. and i appreciate that the characters are children of lower-middle class/working-poor families, which novelists so frequently turn into stereotypes, but here read like real people, real circumstances, discrete personalities and home lives.
all of that is fine – i was really enjoying seeing where it was going, enjoying the journey towards the 'is it or isn't it?' of the supernatural/human reveal.
and then it got there.
and, wow.
this book is like waiting for marriage to lose your virginity – you spend so much time anticipating what's going to come and then it's over and you wonder if it was all really worth waiting for. i'm not sure if this analogy holds water, but unlike marriage, i've committed to it, so here we are.
again, i have the ARC, so page numbers may differ come pub day, but after 280 pages, we come to the big reveal, the big showdown, and it lasts NINE PAGES. nine. pages. and that's me rounding up the half-pages – it's actually only seven. which is a truly unsatisfying roll in the hay, by my standards.
so, was it worth it? for me, not really. it's an out-of-left-field answer to a question built up into a lot more than it turned out to be. and it doesn't even make sense – if the why is the why, then the hazel thing makes no sense at all. none.
so, yeah – for me, this one didn't work. i liked enough of it to give french another shot, considering the high marks her other books have gotten 'round here, but this one did not stick its landing, which pretty much tainted whatever steps in our courtship i'd enjoyed before we commenced our regrettable wedding night.
***********************************
sorry, booknerds – i didn't love this.
3 stars cats, rounded up
review TK.