The Last Whisper in the Dark by Tom Piccirilli
My rating: 5/5 cats

oh, dear lord, i loved this book.
this is a sequel to the last kind words which if you have not read, you need to go read, and then you can read this one. i would not recommend reading this one without reading the other one first, because a lot of amazing stuff happens in the last kind words, and you will miss out on the emotional impact if you just read this one, although it does do a pretty good job with recap. but just factual recap, all the important layers will be lost on you if you try to dive in here. trust karen on this.
this book was just like a warm bath, if your bathtub is full of crime and revenge and creeping into people's bedrooms when they are asleep.
but the characters – it was like i had never left them. every word was like being immersed into someone's life, and they shone up off the page like little holograms.
not all the characters from the first book made it out alive, so i hesitate to even talk about much of the plot, but i will say that terry is still with us, still nursing his wounded love while trying to protect his younger sister and keep tabs on what remains of his family.
this is still a crime story, but while it has some of the trappings of the noir, it is not a noir story. it is what noir would be if it ever had a sympathetic, but not entirely blameless, male lead who demonstrated real human qualities. can i call it emo-noir? i believe i shall.
i am pretty sure i can't express myself any better than this right now. it's all too good, too much. i love terry, i love his mother, i love the entire structure of this family, and the lengths they will go for each other, including the keeping of secrets to the extent that it is a secret that they even know the secret, if you follow.
the whole opening scene with JFK, who is a dog named after a person in a family of people named after dogs, is one of the best things i have ever read, and the way this scene will sort of translate into other, later, events is kind of painfully beautiful.
and every "whisper" made my heart seize up a little.
and every realization that redemption is so rarely possible.
i really can't say enough good things about this book, and the real crime is that i can't be articulate when i feel as much love as i do here.
i doubt there will be a third book, it doesn't feel like there is anything left that the reader can't infer, and a lot of it is just long, slow decline, but i would love to read more, if these characters are given another chance.
******************************************************
i did not know there was going to be a sequel, and then there was!!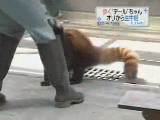 real review later. for now – just be excited with me