okay, i am FINALLY getting the chance to write up my thanksgiving food adventure. it's not as elaborate as in years past, and i'm sure the write-up itself will be far less winsome as well, but my life is one of diminishing returns, i'm just barely clinging on, but i'm doing my best!
first of all—why didn't anyone ever tell me the secret of turkey prices? i have never, in all the years i have been making thanksgivings, paid less than 30 dollars for a turkey, in the 19-22 pound range. the year i decided to be all rich and fancy and get one from the butcher, it was double that. but then THIS year, when i am at my very poorest, i decided to go to the super stop and shop that is not really close to my house, but is near enough that i greg could haul a turkey home on the subway without too much distress, and since it was such a problem finding a suitable turkey in my neighborhood last year, i thought i would check out to see what the old S & S had on offer.
AND DO YOU KNOW WHAT THEY HAD ON OFFER?
i got a 19 pound turkey for $7.45.
SEVEN FORTY-FIVE! DOLLARS! AMERICAN!
now, maybe this is the price of a turkey where you are from, maybe this is something everyone knows except for me. maybe the mayor of my part of queens is a turkey trying to change holiday traditions so no one eats her relatives, i don't know anything about politics or the economics related to the turkey market. all i know is that i got a whole giant turkey for less money than i spend at dunkin' donuts every day.
and that was my thanksgiving miracle.
greg is officially on turkey-lugging detail every year from here on out.
but so here is the food, and i hope it makes your mouth water.
roasted brussels sprouts with grapes
before the grapes:
GRAPES!
after the hazelnut topping was added:
roasted carrots and beets with pecan pesto.
LOOK, ERICA! THERE ARE RED AND GOLDEN BEETS!!
just the veggies: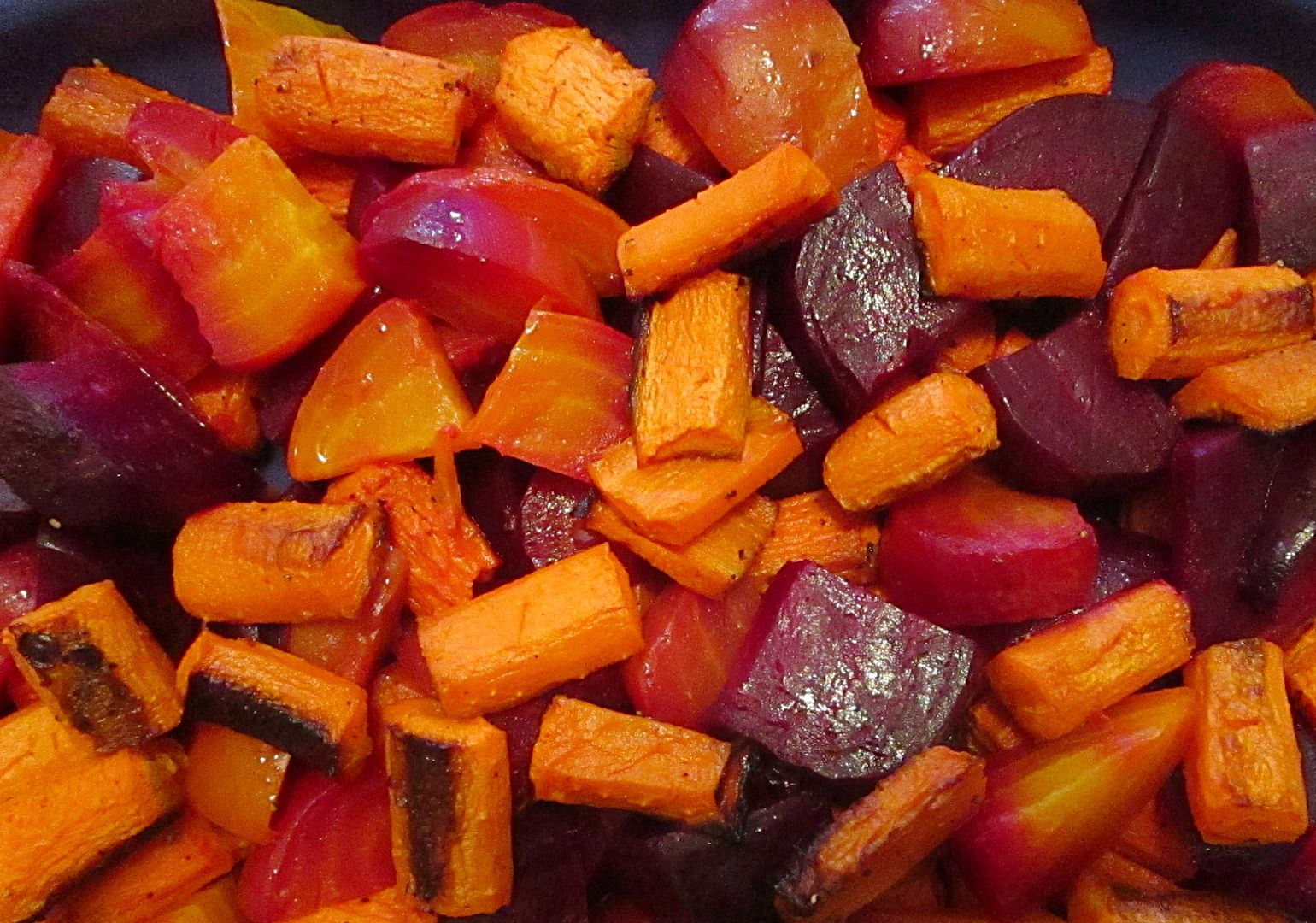 with the pesto: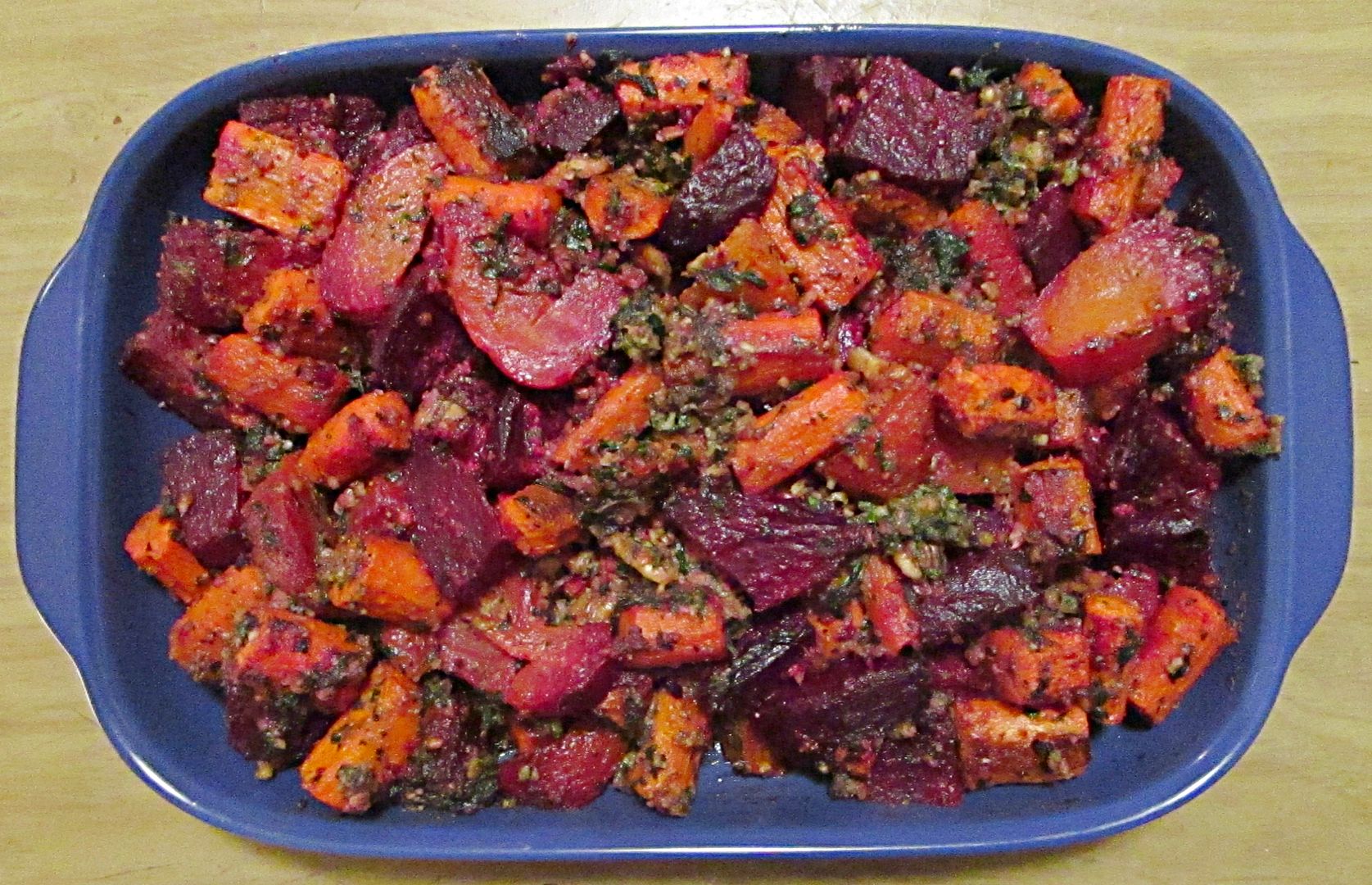 green beans with toasted hazelnuts and browned butter
crispy parmesan-roasted butternut squash (it did not crisp up the way it was supposed to. but still delicious)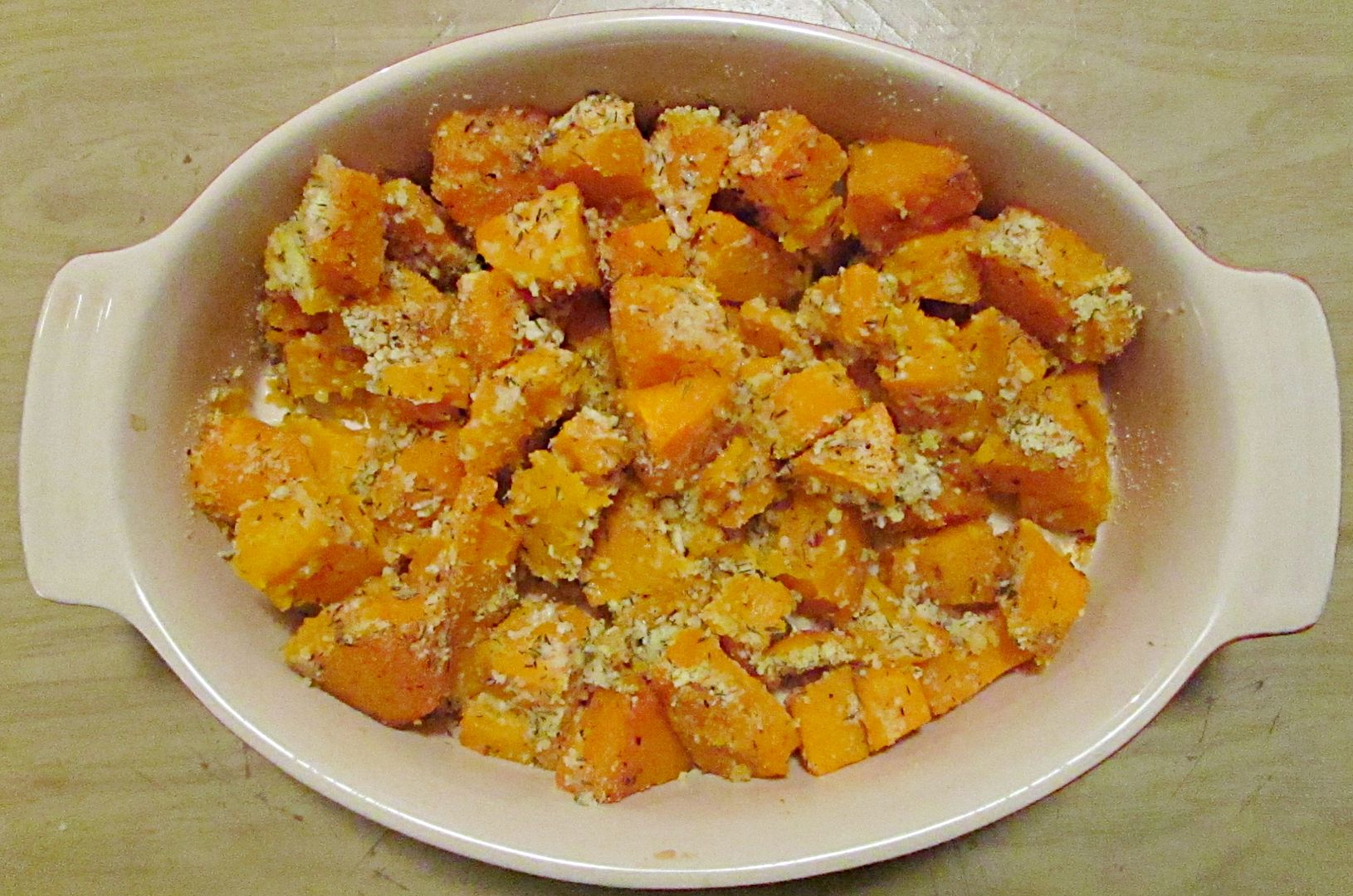 creamy make-ahead mashed potatoes
before the cheese:
after the cheese:
veggie medley (sweet potatoes, summer squash, zucchini, parsnips, arugula, various herbs)
before the feta:
after the feta:
cranberry cornmeal dressing
and my dirt-cheap turkey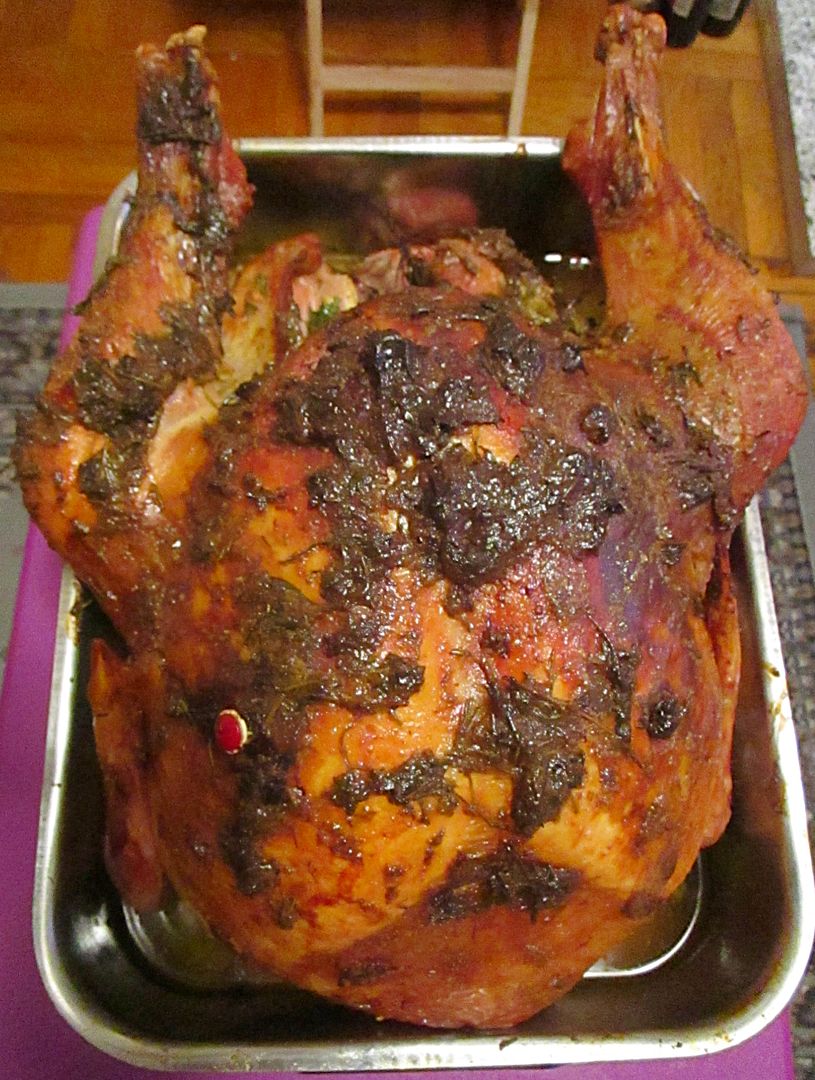 thanksgiving!
and here are my thanksgiving injuries. two burns, one cut – not too bad!
those injuries and a misplaced bag of dried cranberries were the only tragedies. i still don't know where those cranberries went.
all in all, a good thanksgiving. for the first time since i started making thanksgiving, i decided to make it a different way. sean of the house was very apprehensive, because he loves my turkey recipe, but i am the queen of thanksgiving and no one tells me what to do! and he ended up liking it even more, so. it's a toss-up for me. on the one hand, this is far and away the juiciest turkey i have ever made, but the skin done my old way is much crispier. this one gets covered in a kind of paste that protects the flesh but doesn't let the skin get crunchy. the old way is a 3-day process of brining and a fussier roasting procedure, with four rotation stops along the way. this one is messier, but overall quicker. who knows what next year will bring? i know one thing—it will bring me to super stop and shop, and it will bring a freaking cornbread stuffing. me and sean of the house have an agreement—cornbread and "regular" stuffing will alternate year to year, in order to please us both. this year, i thought i had chosen a cornbread stuffing, but then i realized it was just cornmeal, and then i was too tired to choose a new one.and i thought it was pretty boring, but sean could not stop eating it and making obscene pleasure-noises. i haven't made a cornbread stuffing in years, so next year is definitely my turn. which, considering i take on thanksgiving entirely on my own (except for the turkey lugging. thanks, greg!) but in terms of planning a new menu every year, buying the groceries and wine, cooking the whole feast, and doing the dishes, one wonders why i give him any input at all. this THANKSGIVING IS MINE is all my choice, by the way—i'm not being held captive as a thanksgiving slave. i just love thanksgiving and i don't want any giant sean hands mucking up my feast. he even tried to cancel thanksgiving this year, on the grounds that everything is awful and exhausted and poor and backwards because of nightworking, but i said NOOOOOO. this is one of the few things i look forward to. ain't no one taking away my thanksgiving fun. and it wasn't so bad—i made some things the day before, and used the slow cooker for those feta-veggies, so it all got done efficiently. which is my middle name. along with "tiffany."
so that was that. here's last year's thanksgiving, which also contains the links to all of my thanksgivings past, in case you love thanksgiving as much as i do.
https://www.goodreads.com/story/show/514877-adventures-in-thanksgiving-2016