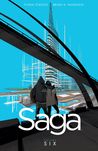 Saga, Vol. 6 by Brian K. Vaughan, Fiona Staples
My rating: 4/5 cats

let's catch up – what's this series about again?
oh, right!
despite how adorable i continue to find hazel (and for me to find a child character in anything "adorable" is already a rare feat),
this one was a little less-fun than some other volumes. part of it is how scattered it is – developing storylines for characters i do not care about, like these two.
no one cares about these two.
it also introduces a ton of new characters. some of them with surprising genitalia! this volume has SO MANY genitals, by the way.
but never fear, there are still all the old favorite friends.
although the will has really let himself go
killing machine or not, you gotta feel a little bad for him…
here, there are things that are ferocious:
things that are cuuuute:
and the place where ferocious and cuuuute collide:
this guy's also cute and ferocious, but these pictures are really just showcasing the ferocious parts:
things are definitely happening, and the story is broadening, but i am so enamored with certain characters, i kind of wish i could stay with them instead of teevee head people and blue attempted-homewrecker lady and… these two
i don't know why i find them so boring, but i very much do.
still, at least there's plenty of hazel, who's growing up so fast!
and it ends with a surprise for our heroes!
wonderful things happen in this one, don't get me wrong. i just wish there had been more with my heart-characters, considering i'm all caught up now and i have to WAIT for volume 7 like a chump.
but if, say, hazel's stories ever get published as a saga side-project while i'm just here waiting and waiting, know that i will happily read them, to pass the time and the pain of waiting.
toot, toot!