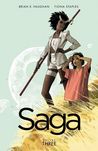 Saga, Vol. 3 by Brian K. Vaughan, Fiona Staples
My rating: 4/5 cats

another great volume in what is shaping up to be an outstanding series. there were even some sharks in it this time!
briefly
don't worry – i will be very careful here.
what i liked most about this installment was how meta it was – there was so much time devoted to talking about books, the process of bringing books into the world, the joy of being confronted with stacks and stacks of new books, and there were some funny little jabs at authors:
but even more so, this:
it's true, authors are the worst!! i can't even count the number of times this has happened to me:
i forget nothing, philip roth!!*
and is this a confession?
is brian k. vaughan afraid of fiona staples?? who could be afraid of this sweet smiling face?
although maybe she's different when she's working….
in any event, there's a lot of wisdom in this volume, about the subtext of children's stories
and the quiet pleasures of family reading time
although i did NOT like this. books are not seats!
so it's only fair that she should be punished with the sight no mother wants to see involving her son
"that's what you get for putting your butt on us," say the books!
this rule does not apply to cats because no rule applies to cats.
i am proud to be a brand-new saga superfan. keep 'em coming!
* philip roth has never actually puked on me. but i'm sure he would.