Gideon the Ninth by Tamsyn Muir
My rating: 4/5 cats

"You want to fight it."

"Yep."

"Because it looked…a little like swords."

"Yop."
okay. so. usually when i write a review, i am writing it for some nameless, faceless reader who is deciding whether or not to read a book and looking for some information to help them make that decision, so i'll do the whole plot-point, pull-quote thing—giving an overview of the book so they know what to expect, to know if it's their kind of thing or not. those are the reviews i find the most helpful to me, so that's what i put out there.
this time…just, no.
there's no way i can explain the premise of this book. i envy and respect anyone who attempts it, but i can't be that girl this time.
this book is…a lot. it's got a ton of characters, a complexly-constructed world, and a genre mash made up of space opera, murder mystery, horror, and whatever the literary term is for where it's like a magic-and-science-based scavenger hunt at the olympics, but where some people are expected to die.
i'm not gonna lie, i got lost a couple of times. helpful dramatis personae pages are helpful
but i would also suggest you bookmark the page where the characters gather for the first time, to memory-refresh the personality details of the eighteen competitors, because some of them got blurry for me. there are a lot of working parts here, and the worldbuilding is thick, but like the House of the First itself, it's a little bit ramshackle, with unexplained bits and leftover pieces. but just go with it, plow right into the whole bone-cladded thicket of it,
because it's a romp of a book, and it's propulsive enough to carry you through the story without understanding every little thing. in fact, the lingering mysteries will only add to your appreciation.
it's a ridiculously fun book, sad and funny and irreverent and suspenseful, with all the dramatically satisfying themes of honor and heroism, loyalty and betrayal, piloted by gideon, a snarky firecracker of a heroine who declares "that's what she said," not once, but TWICE, which is—to me—the height of comedy and a phrase certain to win my love.
try it, you'll like it! i'm already hungering for books 2 and 3!
oh, and someone give danny elfman a copy of this book. and, since you're already there, tell him i need an oingo boingo reunion tour.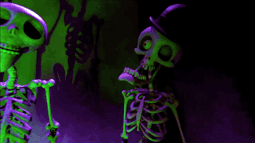 ********************************
thank you, i DID!
********************************
okay, let's do this.
********************************
my stack of "books i am drooling over and need to read immediately" is the cursiest blessing…
come to my blog!
read my book reviews on goodreads