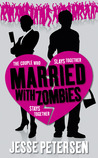 Married with Zombies by Jesse Petersen
My rating: 3/5 cats

JESUS CHRIST, HOW MANY TIMES AM I GOING TO HAVE TO EDIT THIS!! THIS MASCOT COMPETITION IS TURNING INTO SOME MISS AMERICA SCANDAL!! WALBERT IS BACK IN THE RUNNING. HE HAS NO SHOT OF WINNING, BUT LOOK HOW CUTE HE IS!!! LOOOOOOK!! COMPARED TO THE BEE, HE IS THE PMOAT!!!
http://www.goodreads.com/blog/show/24…
as an aside—i really hate that bee, and it would make the site look like one for doofy toddlers, not bookish adults. i can stand to lose to a hedgehog, but that bee has got to go down (LGM)
so but zombies.
this book was much more enjoyable than i had feared. humorous zombie books are tricky to pull off. on the one hand, a creature that only wants to eat your brains is funny. on the other hand—seriously—it really wants to eat your brains. that's not funny.
but i found myself reluctantly charmed by this couple and their struggles to maintain their relationship and not get turned into zombies, all in the same day. thankfully, they had seen some zombie movies (which they were not afraid to reference). the "figuring out" part of zombie movies and books is always a real downer. "what are these creatures?? what do they want???" please. if i go outside today and see someone shuffling down the street, head cocked, moaning a little, i am going to crossbow it in the head. and if it is simply a stroke victim—well, mea culpa. you would have been thanking me if it had been a zombie. but when characters waste too much time scratching their heads and wondering "what do we dooooo?" it just frustrates the audience.
this book had good ass-kickery mixed with actual humor (i.e.—humor that made me laugh, not just cheap placeholder humor) and a bonus cult situation. the surprises never felt contrived—there were some genuinely intense moments, and i ended up rooting for the pair to rekindle their love and shoot some corpses in the head. good times.
on halloween, i was read-walking this very book down the street, and i saw the saddest thing: a little princess had rung the doorbell of an old man's house, and he opened the door and bellowed "no trick or treaters!!!" dude! just don't answer the door, no need to be a jerk about it. i kind of wish she had been a zombie, and had eaten him. then i wrote a story in my head where all the trick-or-treaters were zombies and i walked a little more quickly to escape them.
in summary:
bee= bad
this book = good.
also—just for the record—i do not like how this book tore the rbrs apart into two factions. can we come together again for next month, pleeeeeze??
read my book reviews on goodreads